North Korea mountain used as nuclear test site at risk of collapsing, Chinese scientist says
A mountain in North Korea believed to have served as the site of five of the rogue regime's nuclear tests -- including Sunday's supposed hydrogen bomb explosion -- is at risk of collapsing and leaking radiation into the region, a Chinese scientist said Monday.
Researchers at the University of Science and Technology of China in Hefei, Anhui province, examined the Punggye-ri site and said they "were confident" underground detonations were occurring underneath the mountain, South China Morning Post reported.
Wang Naiyan, a former chairman of the China Nuclear Society and a researcher on China's own nuclear weapons program, said another test underneath the mountain can cause an "environmental disaster" if the site caves in on itself, allowing radiation to escape and "drift across the region," including into China.
"We call it 'taking the roof off.' If the mountain collapses and the hole is exposed, it will let out many bad things." Wang told the South China Morning Post.
NORTH KOREA WARNS MORE 'GIFT PACKAGES' TO US AS EUROPE WORRIES ABOUT MISSILE STRIKE
Wang said there are limited mountains in North Korea that are "suitable" to conduct a nuclear test and vertical tunnels could reduce the likelihood of the "top" of the mountain being blown off. However, horizontal tunnels are easier to build – but more likely to cause the mountain to implode with a bigger blast.
North Korea claimed it detonated a hydrogen bomb over the weekend, calling the test a "perfect success." The test triggered an artificial magnitude 6.3 earthquake, the U.S. Geological Survey reported. A second tremor was detected minutes after the first, described as a cave-in or collapse by USGS and China's earthquake administration.
The test was estimated to have a yield of 100 kilotons, meaning a blast that was four to five times more powerful than the explosion in Nagasaki, Japan, in 1945, a South Korean defense official told the country's Yonhap News Agency. The precise strength of the underground nuclear explosion has yet to be determined and experts are still working to confirm the nuclear device was in fact a hydrogen bomb.
KIM JONG UN'S NORTH KOREA: BRINGING THE WORLD TO THE BRINK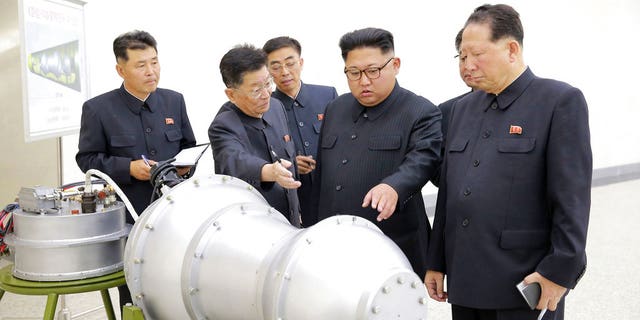 Despite Wang's warning about radiation, readings conducted after the test on Sunday showed no change in the air sample near China's border with North Korea, the South China Morning Post reported.
The regime's nuclear and missile program has made huge strides since Kim Jong Un took power in 2011 after his father's death. It conducted its first intercontinental ballistic missile test in July following a series of missile launches earlier this year.
North Korea is thought to have a growing arsenal of nuclear bombs and has spent decades trying to perfect a multistage, long-range missile to eventually carry smaller versions of those bombs.
The Associated Press contributed to this report.