North Korea fires missile over Japan in show of defiance
North Korea fired a missile over Japan for the first time in eight years, the Pentagon confirmed on Monday, as the rogue nation sent a message of defiance to the U.S. and its allies in the region.
"We are still in the process of assessing this launch. North American Aerospace Defense Command (NORAD) determined the missile launch from North Korea did not pose a threat to North America. We are working closely with Pacific Command, Strategic Command and NORAD and will provide an update as soon as possible," the Pentagon said.
A senior U.S. official said that there had been some movement suggesting an intermediate missile was being prepped.
The South Korean military said the missile flew about 1,700 miles with a height of 341 miles. That's lower than the 2,300 miles into space an intercontinental ballistic missile traveled in late July. North Korea's July 4 ICBM traveled some 1,700 miles into space.
The missile was fired from the area of Sunan in Pyongyang shortly before 6 a.m. and flew east, South Korea's Joint Chiefs of Staff (JCS) said, according to Yonhap News Agency. It traveled over the northern Japanese island of Hokkaido and appeared to be the first to soar over the country since 2009, South Korean officials added.
Japan's Chief Cabinet Secretary Yoshihide Suga labeled it an "unprecedented grave threat."
The U.S. Missile Defense Agency said that the Japanese government alerted the public to take cover in northern areas of Japan but that the Japanese military did not attempt to intercept it.
South Korea's presidential office convened a National Security Council (NSC) session quickly after the missile was fired.
The move came after North Korea fired three short-range missiles on Saturday -- all deemed successful despite initial reports suggesting failure, according to the U.S. military.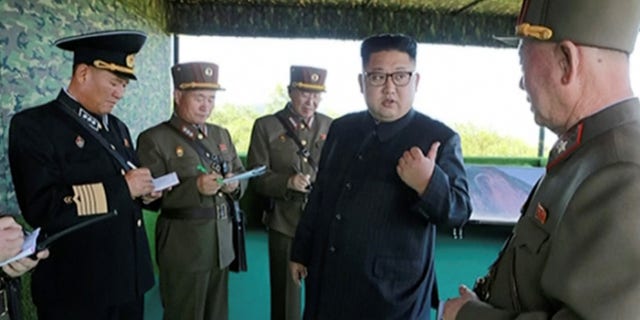 Seoul's Joint Chiefs of Staff said the projectiles fired during the weekend from North Korea's eastern coast flew about 155 miles. North Korean missile launches have been happening at an unusually fast pace this year, and some analysts have said the North could have viable long-range nuclear missiles before the end of President Donald Trump's first term in early 2021.
U.S. and South Korean forces began annual military exercises last week, an effort that Pyongyang claimed was a rehearsal for war.
Japan's military has been practicing deploying anti-missile batteries at three U.S. bases in Japan. The U.S. military says the drills will test the ability of Japanese and U.S. forces to work together and assess firing locations at the bases. They will also allow Japan to practice rapid deployment of its PAC-3 anti-missile system.
Earlier this month, Trump claimed that the North would be met with "fire and fury like the world has never seen" if threats from the rogue regime continued.
North Korea has conducted a series of test launches to develop its missile capability and recently threatened to send missiles over western Japan and into waters near the U.S. territory of Guam.
Secretary of State Rex Tillerson had recently said that he was "pleased to see that the regime in Pyongyang has certainly demonstrated some level of restraint that we've not seen in the past."
Asked to address those comments on Fox News Sunday, Tillerson said he wanted to continue a "peaceful pressure campaign."
The missile was the 18th to be launched this year by North Korea. This is the third time North Korea has fired a missile over Japan. The last time was in 2009.
A missile was also fired over Japan in the 1990s.
Japan will deploy Patriot missile systems to "several" U.S. military installations in the next few days, the U.S. military said.
Fox News' Jennifer Griffin, Lucas Tomlinson and The Associated Press contributed to this report.