None of Ireland's players seemed to know anything about FIFA's 5 million euro payment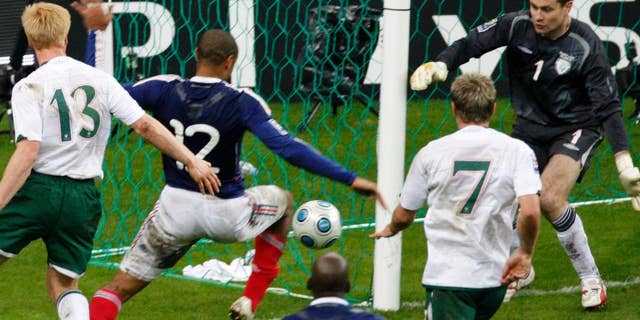 DUBLIN – Whether it was $5 million or 5 million euros, it seems none of the Ireland players knew about the secret payment made by FIFA to compensate the country for missing out on the 2010 World Cup after Thierry Henry's handball.
A day after confirming the money was paid to the Irish soccer association, FIFA corrected itself Friday and said it handed over 5 million euros ($7.1 million at the time) after the country's national team failed to qualify for the World Cup. On Thursday, FIFA said the figure was $5 million.
Roy Keane, one of Ireland's greatest players and now an assistant coach with the national squad, said his team had "hardly spoken about" the deal, and he didn't want to be drawn into it, either.
"I'm not going into the FIFA stuff," Keane said as the Ireland team gathered in suburban Dublin to prepare for Sunday's home friendly against England.
Liam Brady, who stepped down as former coach Giovanni Trappatoni's assistant after the 2010 World Cup campaign, called news of the secret FIFA payout "mind-boggling" and said he knew nothing about it.
"Certainly none of the staff knew about it and none of the players knew about it at the time," Brady said.
The payment, which FIFA called a loan and was first made public last year in an Irish newspaper, was made after Ireland lost to France in a World Cup playoff in November 2009. The French scored in extra time after Henry used his hand to set up the winning goal.
The Football Association of Ireland said the deal, made in a face-to-face meeting involving FIFA President Sepp Blatter, required the Irish to drop its threats to sue soccer's governing body over the result. The loan was converted into a gift after Ireland failed to qualify for the 2014 World Cup.
The deal is being even more scrutinized now that FIFA has been plunged into crisis amid the worst corruption scandal in its 111-year history.
The FAI's former chief executive, Fran Rooney, said successor John Delaney should have ensured that both the signed contract with FIFA and the terms of the loan were disclosed in 2010. He said the FAI's accounts from 2010-13, the most recent year of publication, indicated that the FAI held no long-term loans from any source.
"The FAI needs to explain where that money supposedly appears in their accounts. I don't see it and I don't think anybody at their AGMs (annual general meetings) can see it," Rooney said in an interview.
Some have criticized the deal as setting a dangerous precedent for world soccer. The president of the German soccer federation, Wolfgang Niersbach, said he sympathized with Ireland's outrage over the bad call, which he called "a real injustice."
"But you cannot compensate it with money and no court would have ruled in their favor," Niersbach told German television network ZDF.
Rooney said he couldn't believe that FIFA had paid a cent. He said Henry's uncalled handball "didn't stop us from going to the World Cup. It stopped us from getting a penalty shootout perhaps. But it's nonsensical to think we had a case that we could have won."
Raymond Domenech, France's coach during the match, said the Irish should have pressed FIFA in public and in court to demand a place at the World Cup.
"Their qualification was at stake," Domenech told French radio network Europe1. "On a sporting level, it's disgraceful — unacceptable — that you might sacrifice that for money."
Many in Ireland support that sentiment, noting Delaney's original 2009 pledge following the handball to seek justice.
"It's not about money," Delaney said then. "This is about sporting integrity."
Delaney and Ireland, however, took the money.