No threat of explosion at North Sea platform leaking gas, officials say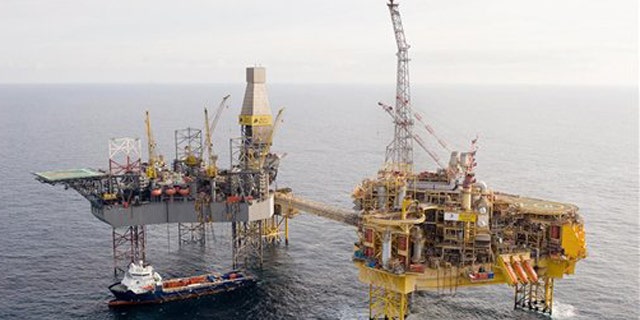 LONDON – Energy company Total S.A. said a flare is still burning on the North Sea offshore platform that is leaking gas, but claimed Wednesday there is no threat of an explosion given the weather conditions.
The company said it is evaluating options to extinguish the flare, but for now the wind is blowing in a direction that doesn't pose a risk to the rig off the coast of Aberdeen, Scotland. It added that surveillance flights, which have detected a sheen around the platform, are continuing.
The sheen is believed to be caused by gas condensate -- a petrol-like substance that contains some oil. The condensate is a lighter fuel than oil but is still dangerous.
Total spokesman Jacques Emmanuel Saulnier described the situation as serious but stable.
"The first indications show that there is no significant impact on the environment ... at the moment," he told France-Info radio. "Today the absolute priority is to stop the leak of gas and limit the environmental damage."
The leak of flammable gas was discovered over the weekend from the Elgin platform. All 238 staff on the platform were evacuated Monday. The Coast Guard has since set up a safety zone around the rig, banning ships and aircraft.
Shell also has evacuated some of its workers from two platforms in the North Sea that are near the leaking rig.
Total shares fell 2.7 percent Wednesday.