NJ Transit cop saves suicidal man just seconds before train barrels into station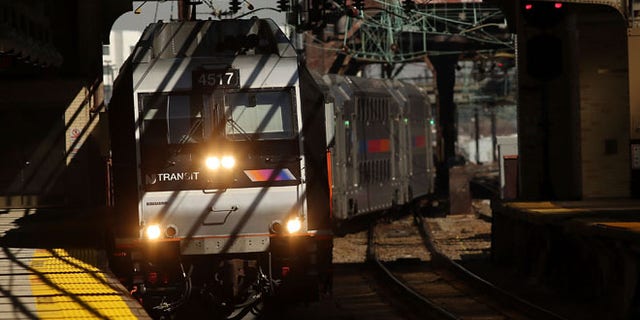 A transit cop in New Jersey is being hailed as a hero after he pulled an apparently suicidal man off the tracks only seconds before a train barreled into a station.
Security footage taken at the Secaucus Junction train station shows New Jersey Transit Officer Victor Ortiz trying to convince the unnamed man to get off the train tracks.
The man, who apparently had been in an argument on a previous train before jumping down on the tracks, refused to move for Ortiz despite a train bearing down on the two.
Ortiz grabs the man and the two struggle – with the man almost pulling the NJT officer down – before Ortiz manages to pull him off the tracks only seconds before the train pulls in.
"Without regard for his own safety, Officer Ortiz acted quickly and heroically and was able to pull a man from the train tracks just seconds before a train passed through," the New Jersey Transit Police Union said in a statement. "We commend Officer Ortiz for his bravery and heroism."
Ortiz has been with New Jersey Transit police for 16 years.
"NJ Transit could not be more proud of Victor Ortiz and of the New Jersey Transit Police Department and we hope this serves as a stark reminder of what these men and women do every single day to keep us safe throughout this state," New Jersey Transit said in a statement.