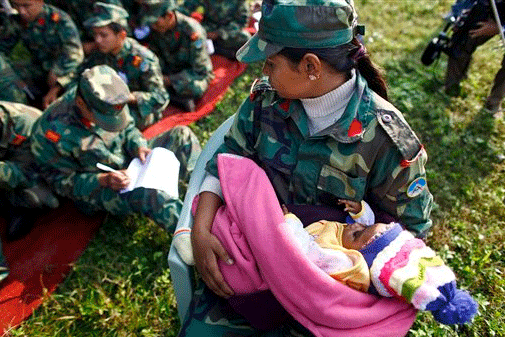 KATMANDU, Nepal – Nepal's political parties long stumbled over what to do with 19,000 disarmed Maoist fighters who have lived five years in monitored camps surrounded by barbed wire. On Saturday, the ex-rebels began telling what future they wanted: joining the army or leaving the camps with cash to begin new lives.
At one of the seven camps spread across the Himalayan nation, hundreds of ex-rebels dressed in green camouflage uniforms lined up outside tents. Inside, government monitors in light blue jackets and caps interviewed them at desks and chairs.
Ex-rebel Bhavana Baral, 25, has a 2-year-old child and said she wants to take the money.
"I have small child with me who need me. Joining the army is not going to an option for me," Baral told The Associated Press.
The political agreement allows up to 6,500 former rebels, a third of them, to join the national army in noncombat roles. The rest will get a rehabilitation package with up to $11,500 cash. The interviews are expected to take several days.
At the Shaktikhor camp in Chitwan, some 125 miles south of the capital Katmandu, another ex-fighter Tanka Bahadur Thapa, 34, said he has been away from his family for many years and would now like to return home to be with the family.
However, several said they would like to be part of the national army.
"When I joined the Maoist army, I was fighting for the nation and people and I would like to continue doing so by becoming part of the Nepal Army," said Babu Lama, 30.
The government monitors in all seven camps began their work Saturday morning and were not facing any trouble, chief monitor Balananda Sharma said. He said he was confident the process would go smoothly.
The Maoists fought government troops in a bloody, 10-year revolt to demand political reforms and end Nepal's centuries-old monarchy. More than 13,000 people were killed in the fighting.
In 2006, street protests ousted the monarchy, and the Maoist rebels disarmed and joined mainstream politics, winning the most seats in 2008 elections.
But the peace process stalled over their fighters' future. The Maoists wanted all their former fighters integrated into the army, which military leaders and other political parties resisted. The agreement showed both sides compromised.
The agreement now puts pressure on the government to overcome political paralysis and finish a constitution transforming Nepal into a republic that was due originally in 2008.