N.C. Sheriff Let Deputies Play Bloody Video Games Depicting Latinos, Prosecutors Say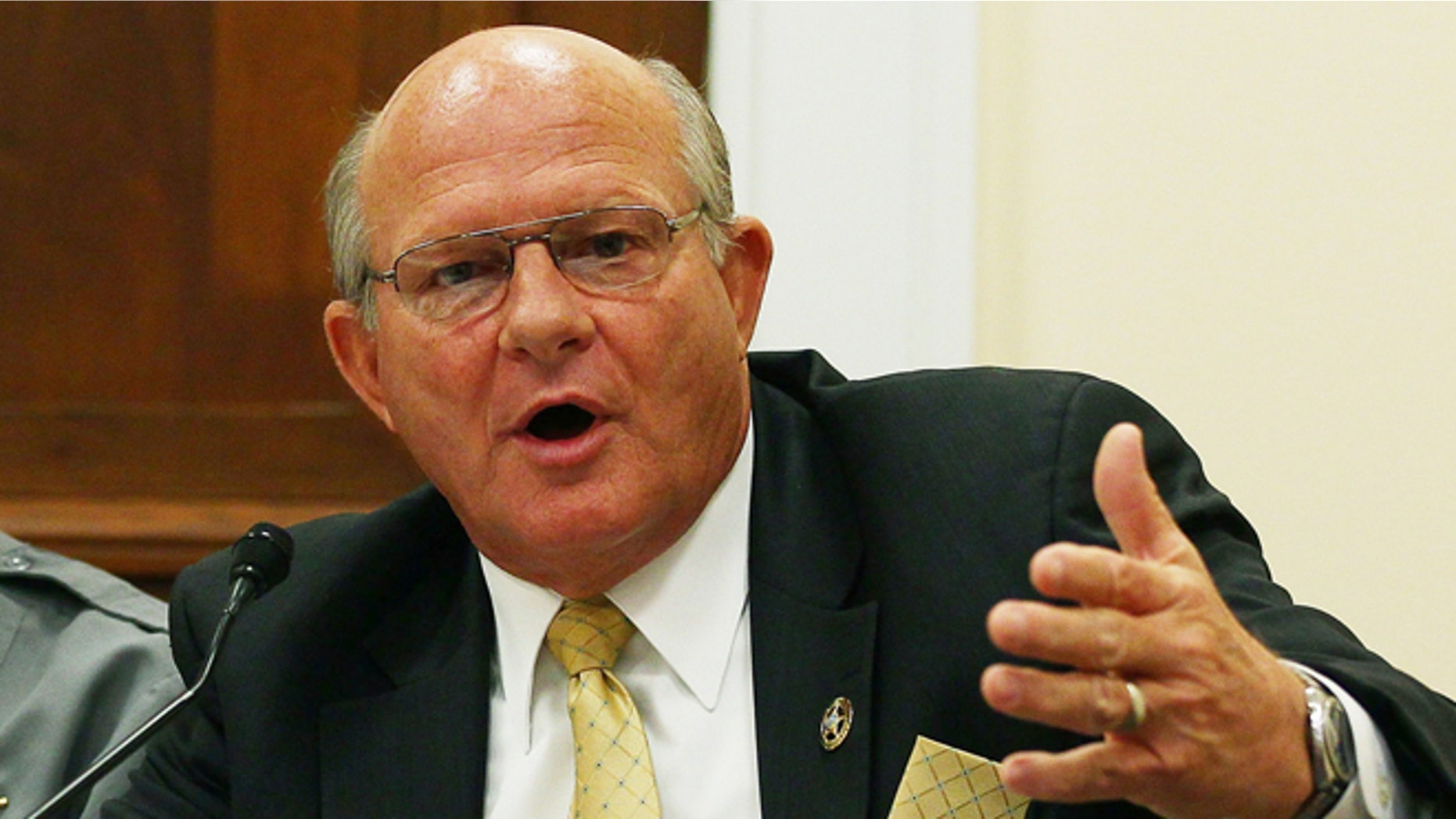 Revelations of racist video games and discriminatory traffic stops composed most of the testimonies given Thursday during the third day of a U.S. Justice Department case accusing North Carolina sheriff Terry Johnson of racial profiling.
DOJ attorney Anika Gzifa grilled one of his deputies, Alamance County Sheriff's Office (ACSO) Detention Officer Mario Wiley, about a video game called "Border Patrol" that he played while on duty more than four years ago. Wiley was a supervisor in 2010 at the Alamance County jail when he sent a link in an email for a game called "Border Patrol" to five other employees at the jail.
A number of screen shots from the online video game were displayed in the courtroom, showing apparent Mexican cartoon figures being shot at as they tried to cross the U.S. southern border. The prosecution also played a portion of the game from a laptop computer in which the sounds of virtual gunshots echoed throughout the courtroom.
Wiley denied that he paid any attention to the details of the game and told the DOJ lawyer that the object of the game was to shoot people and get a high score.
Gzifa asked Wiley if he had seen the "Welcome to the United States" sign in the game or he believed the term "wetback" – featured prominently in the game – was offensive. The detention officer stated that he only saw people running across the field and missed the sign. He said "I guess so" when questioned about if the term "wetback" was derogatory, according to the Times-News newspaper.
Wiley's testimony was part of a greater push by DOJ attorneys to prove that ACSO officers and employees were not properly disciplined for anti-Hispanic comments or actions while on duty. Wiley said that he was never disciplined for playing or sending the game – despite it being against regulation to play games while on duty – and only faced disciplinary action in May when he was dropped in rank from captain to detention officer for unnamed reasons.
While the video game and the use of racial slurs – one ACSO supervisor testified to hearing detention officers use the terms "wetback," "beaner" and "spic" to refer to Latinos – are part of the DOJ's case against Sheriff Johnson, the main accusations being leveled against the lawman is that he used his office to violate the Constitution's promise of equal protection of law and barring unreasonable searches.
The government said a Justice Department investigation found that, under Johnson's watch, Alamance County deputies routinely targeted Latinos for traffic stops. A statistical study commissioned by the DOJ found that the county's Hispanic drivers were as much as 10 times more likely to be stopped by a sheriff's deputy for committing a traffic infraction than a non-Latino driver, the government said.
Johnson, a Republican, is running unopposed for re-election to a fourth four-year term in November. Testimony from a list of dozens of potential witnesses is expected to continue into next week.
The Justice Department said Johnson targeted Latinos to boost deportations after his agency in 2007 began participating in the federal 287(g) program, which trained local law enforcement officers to perform immigration checks. Hispanics arrested in the county were then automatically referred to investigators at U.S. Immigration and Customs Enforcement for potential deportation. ICE cut short its agreement with Alamance County in 2012.
The government also is asking the judge to penalize Johnson for allowing the destruction of an audio recording. Witnesses described in pre-trial interviews that the recording of the department's radio traffic would have captured Johnson telling officers at a checkpoint to take any Hispanics they find to jail, Justice Department lawyers said.
Follow us on twitter.com/foxnewslatino
Like us at facebook.com/foxnewslatino