Murder in the Kingdom? Famed coroner says American's death was homicide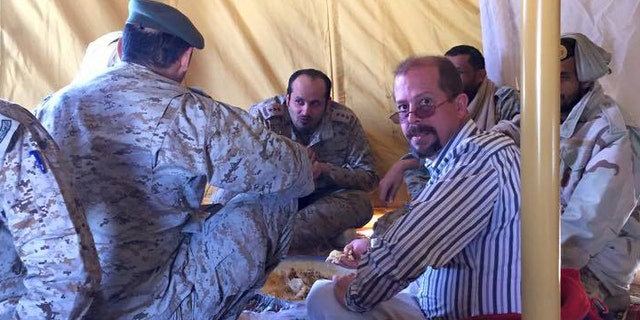 NEWYou can now listen to Fox News articles!
An American defense contractor whose body was found three stories below his room in a Saudi Arabian hotel in January was a victim of homicide, according to a noted coroner who performed an autopsy, but there may be little U.S. authorities can do to bring his killer to justice.
The autopsy by Fox News contributor and former New York City chief medical examiner Dr. Michael Baden differed from a Saudi ruling that Christopher Cramer fell or leapt from the window of his room at Sahara Makarim Hotel in the city of Tabuk on Jan. 15. Cramer was in the Kingdom to work on a missile system sold by his New Hampshire-based employer, Advance Defense Systems of Kollsman.
"He has injuries that are all over his body," said Baden, who conducted the autopsy in March on behalf of Cramer's family and issued his final report Friday. "It should have been investigated as a homicide."
"It should have been investigated as a homicide."
Baden's determination confirmed the suspicions of Cramer's friends and family, who say Cramer, 50, sent frantic text messages shortly before his death, warning that he was in danger.
"I'm at the Marakim tabuk hotel in Saudi," reads a text message Cramer sent to a friend. "I think something bad is going to happen to me tonight. Please contact state dept ASAP. Bad things were said."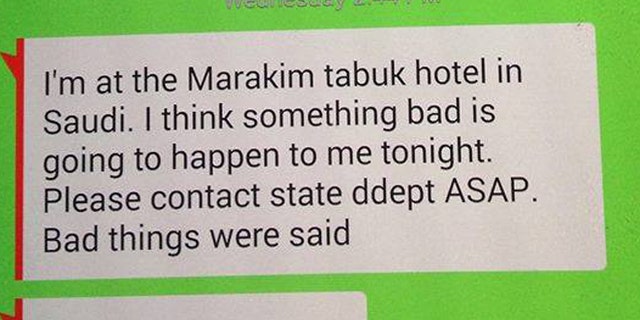 Saudi investigators told Advance Defense Systems officials, who could not be reached for comment, that Cramer had fallen from the window, either by accident or suicide. But Baden said his examination ruled out both.
Baden's report lists the cause of death as "multiple blunt force injuries of the head, chest, back, and extremities," while the autopsy done by Saudi authorities states that "multiple traumatic injuries on body led to fractures of the skull and brain, hemorrhage and shock. Fall from height."
Baden says that blunt force trauma to the head is something that usually does not occur in a suicide or accidental fall.
"My interpretation is that he [Cramer] could not have fallen accidentally," said Baden. "If you accidentally fall, there would only be injuries on the side of impact."
The final report cements Baden's preliminary finding in March, when he first told FoxNews.com that he believed Cramer was killed.
"Thank God someone else was able to prove what we have always believed," Cramer's nephew, Chris Arsenault said. "We are going to continue to press for the facts; that he did not fall after committing suicide."
Despite the findings, U.S. authorities cannot conduct a murder investigation without permission from the Kingdom.
"The U.S. government cannot investigate an incident overseas without the permission of the host government," State Department spokeswoman Katherine Pfaff told FoxNews.com. "We have offered our assistance to the host government. At this time, we have not received a request from the Saudi authorities for assistance."
One former State Department officer said conducting any sort of investigation into a death such as Cramer's is a difficult diplomatic dance.
"You have no authority in a foreign country and they can get very testy if you conduct any sort of investigation," Scott Stewart, vice president of tactical analysis for global intelligence firm Stratfor and a former special agent for the U.S. State Department, told FoxNews.com. "They can shut you down in a heartbeat."