Mullen Says Qaddafi's Military Gains Partly Related to Bad Weather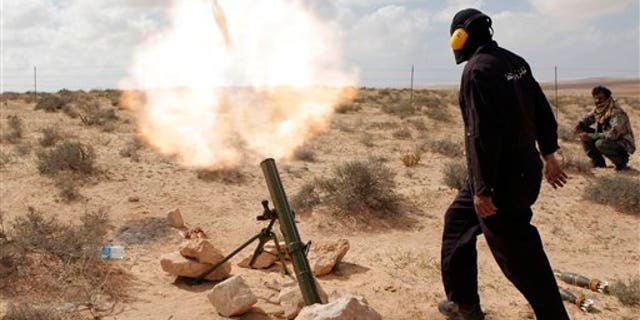 Forces loyal to Libyan leader Muammar al-Qaddafi continued their push against rebels Thursday, but the top U.S. military officer said the strongman's recently military gains may be attributed to inclement weather.
At a Senate Armed Services hearing in Washington, Joint Chiefs Chairman Mike Mullen said bad weather had obstructed the view of coalition aircraft handling the airstrikes. He added that U.S. aircraft will be on standby if NATO needs them.
Qaddafi's forces recently have been making up ground lost to the rebels immediately after the start of allied airstrikes nearly two weeks ago, but the strongman's regime also has suffered major political blows, with the defection of top officials.
Libyan Foreign Minister Moussa Koussa resigned after landing in Britain on Wednesday. And on Thursday, Ali Abdessalam Treki, a former foreign minister and U.N. General Assembly president, said in a statement posted on opposition websites that he refused an offer to represent Libya at the United Nations.
"We should not let our country fall into an unknown fate," he said. "It is our nation's right to live in freedom, democracy and a good life."
Rebels had advanced overnight to the west gate of Brega, a town important to Libya's oil industry that has gone back and forth between rebel and loyalist hands. They were in Brega at dawn, but they soon pulled out under heavy shelling from Qaddafi's forces. Black smoke billowed in the air over Brega as mortars exploded.
"There were loads of (rebel) wounded at the front lines this morning," said rebel fighter Fathi Muktar, 41.
Rebels fired back from sand dunes, chanting "Allahu akbar!" or "God is great!" with each rocket fired. Spotters with binoculars watched where they landed and ordered adjustments.
Brega was deserted and Jabbar Ali, 25, a rebel aviation technician, said Qaddafi's forces were at its eastern gates and controlled much of the city.
Many people also have fled Ajdabiya, a rebel-held city about 50 miles to the east, for fear that government forces were on their way.
Forces loyal to Qaddafi used deadly force against rebels and civilians in Misrata Thursday, as a rebel spokesman told Reuters at least 20 people were killed in an attack.
The spokesman says that Qaddafi forces are using artillery to bombard the rebel stronghold.
"Artillery bombardment resumed this morning (Thursday) and is still going on. The (pro-Qaddafi) brigades could not enter the town but they are surrounding it... Massacres are taking place in Misrata," the spokesman told Reuters by phone.
A Libyan government spokesman tells Reuters that Qaddafi and his sons will remain in the country "until the end."
"If this aggression did anything, it only rallied people around the leader and the unity of the nation," spokesman Mussa Ibrahim told Reuters. "Especially now. They see a clear enemy."
The new commander of international military operations in Libya warned Thursday that anyone attacking civilians would be "ill-advised" to continue, and said he would look into a report by a Vatican envoy that air strikes had killed 40 innocent people.
As NATO took over command of all air operations over Libya, Canadian Lt. Gen. Charles Bouchard said the bloc had already deployed more than 100 fighters and support aircraft to monitor the no-fly zone over Libya and prevent attacks on civilians.
The alliance also had a dozen frigates patrolling the Mediterranean Sea off Libya to prevent weapons shipments from reaching the warring sides.
The hand-over from the U.S., which had been leading the impromptu group of countries bombing forces loyal to Qaddafi, "has been seamless with no gaps in the effort," the commander told journalists from his headquarters in Naples, Italy.
He also said NATO would investigate a claim by the Vatican's envoy in Libya that air strikes in Tripoli during the night had killed 40 civilians -- though he noted that the alleged incident was said to have taken place before NATO took command.
"I am aware of this news report," he said. I take every one of those issues seriously, but our mission began ... today."
The report by the Fides news agency quoted Bishop Giovanni Innocenzo Martinelli, the apostolic vicar of Tripoli, as saying he had learned that a building in the district of Buslim had collapsed during bombing, killing 40 people inside.
NATO chief Anders Fogh Rasmussen told reporters in Stockholm that NATO's position is that "we are there to protect the Libyan people, not to arm the people."
Britain and the U.S. believe that existing U.N. Security Council resolutions on Libya could allow for foreign governments to arm the rebels, despite an arms embargo being in place.
The NATO secretary-general said he has "taken note of the ongoing discussions in a number of countries but as far as NATO is concerned ... we will focus on the enforcement of the arms embargo."
Fogh Rasmussen said the alliance assumed sole command of all air operations over Libya at 2 a.m. ET Thursday. NATO now commands the international force that has been bombarding forces loyal to the Libyan leader. A rebellion against Qaddafi's 42-year rule erupted last month, and international forces including the U.S., France and Britain stepped in March 19, just as it appeared Qaddafi was on the verge of crushing the revolt.
The NATO operation -- codenamed Unified Protector -- includes enforcement of a U.N. Security Council resolution mandating an arms embargo on Libya, enforcement of a no-fly zone and the protection of civilians from Qaddafi's troops.
The takeover comes at a sensitive moment in the war between the rebels and loyalist forces. On Wednesday, Qaddafi's ground troops recaptured a strategic oil town and moved within striking distance of another major eastern city, nearly reversing the gains rebels made since the international airstrikes began.
While NATO insisted that airstrikes are not meant to give air cover to opposition forces, airstrikes are clearly the only way the rebels bent on overthrowing Qaddafi are going to continue their push to the capital.
NATO's takeover came the day after a U.S. official told Fox News that President Obama signed a secret presidential finding authorizing covert operations in Libya, though the administration says it still hasn't decided whether to arm rebel forces there.
The presidential findings establish a framework of legal authorities for covert action. They can authorize specific actions, such as arming the rebels, or establish authorities under which future actions might be taken after permissions are given to undertake them.
Another senior American official, however, says CIA operatives are already on the ground in Libya and are currently gathering intelligence and aiding rebel forces.
The Pentagon has begun drafting plans for arming the rebels if needed, sources told Fox News, but officials caution that no decision has been made because not enough is known yet about the rebels.
Asked where NATO is now that the rebels are being pushed back, Fogh Rasmussen answered, "We are there. We are there to take action with the aim to protect civilians against any attack."
"And if and when our military commanders feel that civilians are threatened then they will take, as is stated in the U.N resolution, take all necessary measures to protect civilians against such attacks," he said.
The Associated Press contributed to this report.