Several Libyan Officials Reportedly Step Down From Qaddafi Regime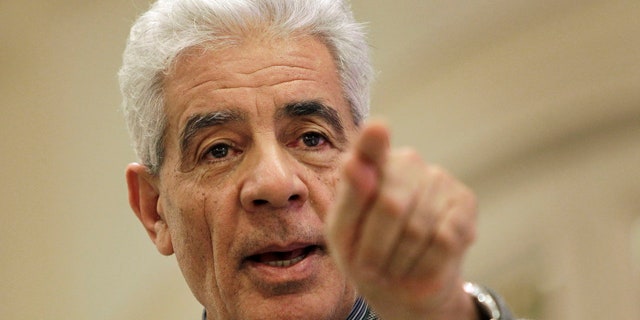 Several Libyan officials have defected from Muammar al-Qaddafi's regime, according to Al-Jazeera.
Al-Jazeera reports that four officials have resigned, on top of the two senior officials who stepped down earlier Thursday.
Libyan Foreign Minister Moussa Koussa and Ali Abdel-Salam al-Treki, former foreign minister who had been representing Libya at the U.N., resigned from their posts.
Britain refused to offer Koussa immunity from prosecution after his apparent defection as rebels want him returned to face trial for murder and crimes against humanity.
The Libyan opposition alleges that Koussa, regarded as one of Muammar al-Qaddafi's closest allies, had a role in masterminding the 1988 bombing of Pan Am Flight 103 over Lockerbie, Scotland, that killed 270 people, most of them Americans. Koussa was expelled from Britain in 1980 after giving an interview advocating the use of violence to silence U.K. critics of Libya's government.
"We want to bring him to court. This guy has so much blood on his hands. There are documented killings, torturing. There's documentation of what Moussa Koussa has done," rebel spokesman Mustafa Gheriani told the Guardian.
Prosecutors in Scotland say they want to interview the defected foreign minister about the Lockerbie bombing and have asked the British government to speak to him.
A Libyan government spokesman confirms that Koussa resigned from his position.
"If someone wants to step down, that's their decision," Moussa Ibrahim said during a press conference in Tripoli Thursday.
Ibrahim said that the Libyan government originally gave Koussa permission to leave Libya for medical treatment, prior to him defecting.
British Foreign Secretary William Hague said the resignation of Koussa, one of the most senior members of Qaddafi's government, shows that the Libyan leader's regime is "fragmented, under pressure and crumbling."
But Hague said "Koussa is not being offered any immunity from British or international justice," dampening speculation that the British government might seek to overlook allegations -- leveled by Libya's opposition -- that he played a pivotal role in the 1988 bombing of Pan Am Flight 103, among other atrocities.
"Qaddafi must be thinking to himself, 'Who will be the next to walk away'?" Hague said.
Hague said it wouldn't be "helpful to advertise" whether or not other senior members of the regime planned to quit but that he believes many likely privately opposed Qaddafi's actions.
Authorities debriefed Koussa, a trusted Qaddafi adviser and longtime stalwart in the Libyan regime, after he fled to Britain on Wednesday on a private plane from Tunisia -- apparently with little notice to the British government. Hague said Koussa was in a "secure place in the United Kingdom," but did not disclose further details.
His name also was associated with the bombing of a French aircraft over Niger in 1989, but in recent years he helped with diplomatic progress that ended Libya's international isolation.
Former Foreign Secretary Jack Straw described Koussa as a key player who had a "fundamentally important" role in negotiations to bring Libya back into the international fold in the 1990s after terror attacks tainted the North African country's reputation. Koussa's departure would shift the balance away from Qaddafi, if only psychologically.
"Moussa Koussa's apparent defection -- certainly his unscheduled visit here -- will be a very important factor in just adding to the weight against the Qaddafi regime and tipping the balance against him," Straw told BBC radio. "From a distance, what's clear is that there is unlikely to be any military 'victory' for either side. So it does depend on which side psychologically collapses."
Koussa's move would be the first high-profile resignation since the U.S.-led air strikes on Libyan forces began. Libya's justice and interior ministers resigned early in the conflict and joined the rebels fighting in the east.
Though Koussa's name was long connected with liquidating dissidents in Western and Arab capitals, he later became instrumental in negotiations with the West that led to the dismantling of Libya's nuclear program.
In 2003, Libya accepted responsibility for the Lockerbie bombing and agreed to pay restitution to the victims. Qaddafi also announced he was dismantling his nuclear weapons program, bringing a major breakthrough in U.S.-Libyan ties. Those steps prompted the United States and Europe to lift sanctions against Libya.
Britain restored diplomatic relations in 1999, ending Libya's international isolation.
Guma El-Gamaty, an organizer in Britain for a leading Libyan opposition group, said Koussa's action would be "a big hit" that would weaken Qaddafi.
"He says he is resigning," El-Gamaty said. "That means he is defecting. He has been Qaddafi's right-hand man for years, running intelligence, running the Lockerbie bomber negotiations, running many things."
El-Gamaty said he does not think Koussa is likely to remain in Britain but would probably end up in another country in an effort to avoid possible prosecution.
He said that Koussa would not be welcomed into the opposition movement because of his prior actions on behalf of the Qaddafi government.
The Associated Press contributed to this report.