Mugabe may yet hold vote without reforms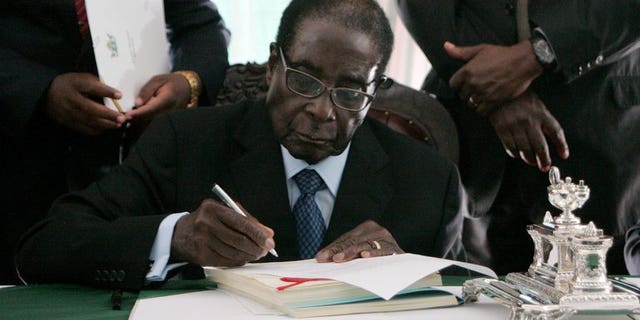 HARARE (AFP) – Zimbabwean President Robert Mugabe appears to have caved in to regional pressure to delay key elections, but analysts warn the veteran ruler could yet forge ahead with the polls without making key reforms.
Last week Mugabe swept aside considerable opposition, mustered all the powers of the presidency and declared Zimbabwe's elections will be held July 31.
In doing so he plunged the country into a fresh political crisis, with long-time rival Prime Minister Morgan Tsvangirai vowing to veto any unilaterally declared poll date.
But within a week Mugabe was looking less than omnipotent.
Southern African leaders -- fearing Mugabe was hurtling Zimbabwe toward another flawed election, yet more violence and another political and economic meltdown -- stepped in.
In an unusual public rebuke of their old comrade, leaders from the Southern African Development Community (SADC) demanded Mugabe push back the election date.
SADC leaders said time must be given to introduce reforms that would make the elections free and fair, or at least allow a vote that would not derail their own plan to stabilise Zimbabwe, which has been half a decade in the making.
Dumisani Nkomo, a Bulawayo-based independent political analyst said Mugabe got the message loud and clear.
"Mugabe is under pressure to ensure elections which will be credible and acceptable to SADC," Nkomo said.
"This means if Mugabe decides to go ahead with the elections on July 31, the results won't be accepted by SADC."
But many observers see Mugabe's request to the constitutional court for a two-week delay until August 14 as necessary, but not sufficient to ensure a fair vote.
"There is no guarantee that the two weeks will be granted by the court," said Takavafira Zhou, a political scientist at Masvingo State University.
Rights groups and Tsvangirai's Movement for Democratic Change (MDC) have already accused the government of lodging an application to the consitutional court that was intended to fail.
"The application is incompletely done and is shoddy," Douglas Mwonzora, spokesman for the MDC told AFP.
Lovemore Madhuku, a constitutional law expert at the University of Zimbabwe, said prospects of the court granting an extension were slim.
"The elections will still be held on July 31. It's highly unlikely that the constitutional court will change its position."
Even if Mugabe's request is approved, it only calls for a two week delay.
Tsvangirai's key reforms include difficult tasks like ridding the security services of politicised chiefs aligned to Mugabe's ZANU-PF party.
He has also called for revamping media laws: to allow independent radio stations to operate, curb the abuse of defamation laws and stop state media from producing anti-opposition propaganda.
The reforms would also rid the electorial roll of ghost voters.
"Even if the court were to grant the extension, I don't foresee any reforms being implemented in two weeks. For me this whole thing is a window-dressing act," said Zhou.
Trust Manda, a member of the Zimbabwe Lawyers for Human Rights (ZLHR), agreed.
"It must not just be a legal change, but (the) law must be implemented on the ground, and 14 days is not enough for that."
Tsvangirai's Movement for Democratic Change has conceded that a in any case a two week-delay would do little to change deeply-ingrained attitudes.
The SADC's response may yet prove critical.
Independent political analyst Charles Mangongera said SADC's unusually tough stance showed that the regional body may not accept another disputed poll in Zimbabwe.
"The SADC resolution has demonstrated that SADC will not tolerate Mugabe's unilateralism," Mangongera said.