Mounting violence in Syria, no aid for Aleppo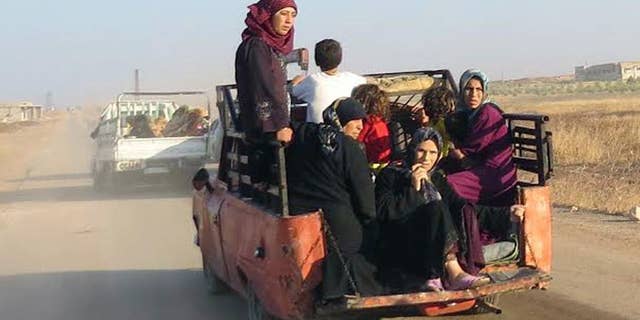 NEWYou can now listen to Fox News articles!
BEIRUT – Aid convoys for Syria's war-ravaged city of Aleppo were delayed Friday for the fourth day as the United States and Russia, sponsors of a Syria cease-fire deal, traded accusations over who was to blame.
Syrian troops withdrew from a main road leading to the besieged rebel-held part of the city for hours before returning to their positions later Friday, according to the Russian Defense Ministry.
In the Syrian capital, Damascus, rare clashes erupted between government forces and an insurgent group, marking some of the most serious clashes in the area in weeks.
CEASE-FIRE VIOLATIONS MOUNT
The fighting that erupted in neighborhoods on the edges of Damascus is the heaviest in weeks and could be heard across the Syrian capital. Opposition activists said government forces tried to storm Jobar, northeast of the capital, but were repelled by opposition fighters. State media, in turn, accused insurgents of launching an attack, drawing retaliation by government forces. The clashes tapered off after a few hours, but highlighted the fragility of the truce.
The government blamed the armed opposition of violating the cease-fire in different parts of Syria, including a rocket attack on the government-held side of Aleppo that damaged a church. The opposition said government forces and their allies bombarded several areas across the country, mostly in Aleppo and the nearby province of Idlib in the north of the country.
TROOPS PULL BACK, THEN RETURN
According to the Russian military, Syrian troops withdrew briefly from the Castello Road — the main artery into rebel-held part of Aleppo — to make way for aid convoys, and state-run Syrian TV said bulldozers removed some of the sand and cement barriers. But Russian officials said the Syrian army on Friday moved its heavy weapons back to the road, after the opposition failed to withdraw their arms in sync.
Syrian activists reported that Russian troops were deploying along the road, while the Russian Defense Ministry only mentioned it had military observers on the road.