Moroccan judge holds first hearing in case of captive girl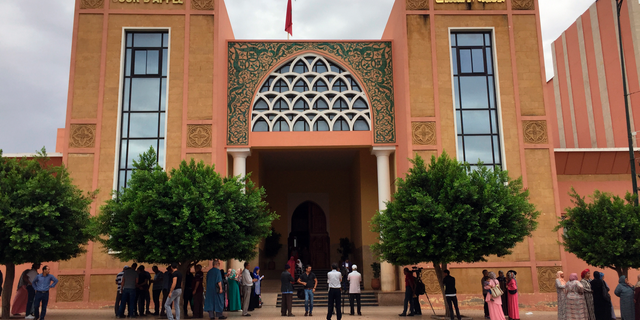 BENI MELLAL, Morocco – Family members of 11 young men suspected in the reported gang-rape, forcible tattooing and torture of a 17-year-old Moroccan girl allegedly held captive for two months noisily defended the men Thursday outside the courtroom where a judge held his first hearing in the case that has gripped Morocco.
The girl, identified only as Khadija and dressed in black, with black gloves covering her hand tattoos, sat quietly before being summoned before the judge at the closed-door hearing.
Khadija's case has sparked a public outcry in the North African kingdom where violence against women is widespread but largely ignored. More than 116,600 people have signed a petition urging action to end a culture that turns a blind eye to such violence.
Twelve suspects were initially detained after Khadija was freed in mid-August, and three more were reportedly on the run. However, only 11 appeared before the investigating judge.
The young men face charges ranging from failure to report a crime to abduction, rape, abuse and human trafficking.
The teen has said in a video interview with Chouf TV that two men kidnapped her at knife-point when she was visiting her aunt during the May-June holy month of Ramadan, before selling her to other men in exchange for money or drugs. She claimed her captors gave her drugs that knocked her out for days at a time.
About 20 family members of the suspects raised pictures of King Mohammed VI outside the courtroom, saying he should intervene. The family members harassed and chased away Khadija's main lawyer, Brahime Hashane, at the close of the hearing, denouncing him as a liar for defending a "criminal."
"My brother, who is not yet 18, is innocent," said one young woman. "How is she there inside, looking fine and well, while our brothers are pale and sick?" The woman, who refused to give her name, collapsed in grief.
Reflecting the stigma associated with sexual abuse in this Muslim nation, the girl's parents initially refused to report her case to authorities. Khadija's mother told the AP in an interview a week ago in the humble family home in the village of Oulad Ayad that Khadija took the initiative to take her case to police.
Youssef Chehbi, a lawyer representing Khadija, said she is "determined to pursue her case and holds firm to her version of events."
A second hearing was ordered for Oct. 10.