More than 100 ISIS fighters attack Iraqi forces in Mosul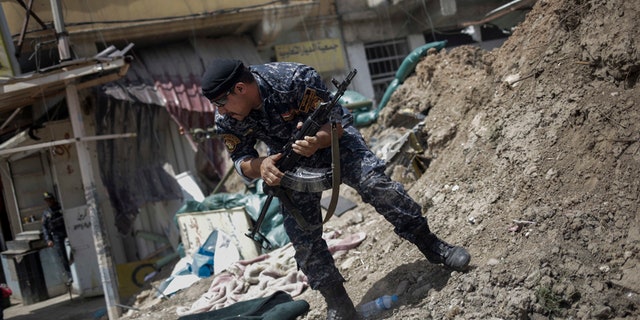 NEWYou can now listen to Fox News articles!
BAGHDAD – More than 100 Islamic State militants launched a counterattack in Mosul on Wednesday, killing 11 Federal Police and four civilians in clashes that were still underway, Iraqi security officials said.
The wide-scale assault underscored the extremist group's resilience in the city despite months of heavy fighting with Iraqi forces backed by U.S. air power.
The militants first sneaked into the western Dandan neighborhood at dawn from the Tigris River and took over a mosque, where they used loudspeakers to announce the assault and shouted "God is greatest!" before it was bombed from the air, according to an army officer and a police officer.
Then the militants moved to the adjacent neighborhoods of Dawasa and Nabi Sheet, breaking into houses, clashing with security forces and seizing a Humvee and other weapons. The officials spoke on condition of anonymity as they were not authorized to release information.
IS boasted about the attack in a statement released online.
U.S.-backed Iraqi forces have been battling the extremists in Mosul, the country's second largest city, since October. The militants are now largely confined to a few neighborhoods.