Miami Dolphins Player Mike Pouncey Subpoenaed In Aaron Hernandez Case, Reports Say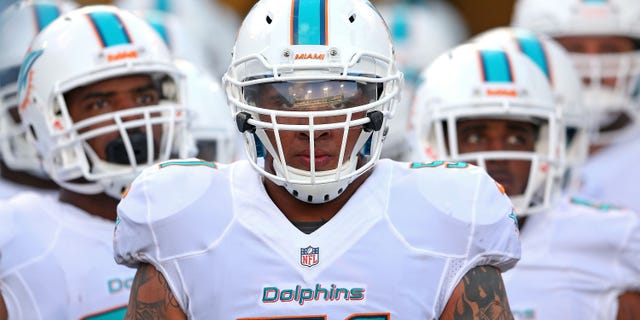 In a new twist in the Aaron Hernandez investigation, Massachusetts state police have served Miami Dolphins center Mike Pouncey with a subpoena, telling Hernandez's close friend he'll have to answer questions about the former New England Patriots tight end to a grand jury.
According to Sports Illustrated, authorities approached Pouncey at Gillette Stadium in Foxborough, Mass. less than an hour after Sunday's game against the Patriots ended. In the hallway between the Dolphins' locker room and the team's bus, two officials wearing dark suits handed the 24-year-old player a grand jury subpoena.
Pouncey reportedly asked the men, "What's this about?"
One of the officials was overheard telling him, "It's about a grand jury investigation."
Sports Illustrated sources said the subpoena is related to the murder investigation of Hernandez, Pouncey's college football friend. Hernandez has pled not guilty to a murder charge and five other weapons-related charges.
Howard Finkelstein, a 7News legal analyst, said the subpoena does not mean Pouncey will face charges.
"It really doesn't mean anything more at this point other than, they believe he has information that will be helpful to them in determining what charges to bring against Aaron Hernandez in addition to what is pending," he said. "All it means is that he must appear on the day that [the document] says, and at that point, they will ask whatever questions they want to ask."
Pouncey and his twin brother, Pittsburgh Steelers center Maurkice Pouncey, caught attention back in July when the two NFL players were photographed in a club wearing hats that said, "Free Hernandez."
Pouncey did not show his face to reporters after his charter flight from Boston touched down in South Florida, Sunday night. "I don't have a comment," said Dolphins spokesperson Harvey Greene.
Dolphins officials reportedly had no idea their player would be served a subpoena after Sunday's game, which the team lost 27-17.
For more stories go to wsvn.com
Follow us on twitter.com/foxnewslatino
Like us at facebook.com/foxnewslatino