Mexico's Pacific Coast Braces for Hurricane Jova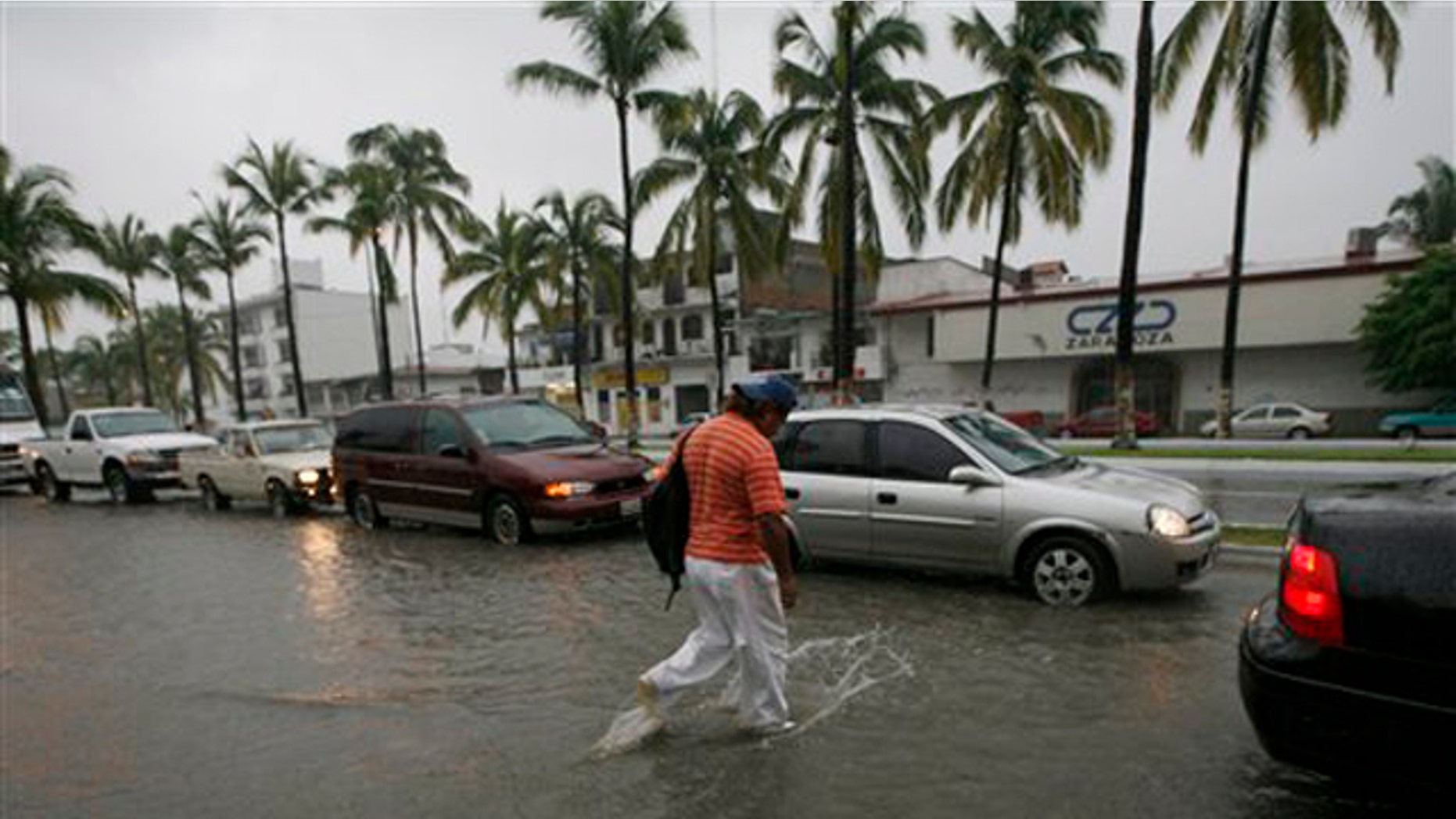 People left low-lying shore neighborhoods, hotels dragged in beach furniture, officials set up shelters and one of Mexico's biggest cargo ports shut down as powerful Hurricane Jova headed for a Tuesday landfall near this Pacific resort.
Jova was a Category 3 hurricane with maximum sustained winds near 115 mph Tuesday morning, and the U.S. National Hurricane Center in Miami said there could be some fluctuations before it strikes the coastline in the afternoon or evening, likely causing high waves and serious flooding.
The forecast track would carry its center near Barra de Navidad, which is south of the larger resort of Puerto Vallarta.
Jalisco state authorities evacuated about 500 families late Monday from their homes on the coast, said Alejandro Arias, Puerto Vallarta's civil protection director, after a meeting with state authorities.
Authorities shut down the port of Manzanillo, the biggest cargo center on Mexico's Pacific coast, and the nearby port of Nuevo Vallarta. Officials were evaluating whether to close the port in Puerto Vallarta, said Laura Gurza, chief of the federal Civil Protection emergency response agency.
The Mexican government declared a hurricane warning for a 100-mile stretch of coast from just south of Puerto Vallarta to a point south of Manzanillo. A tropical storm warning was in effect farther south, to the port of Lazaro Cardenas.
Hotel employees taped up windows, cleaned out water channels to avoid flooding and pulled in all beach furniture.
In the idyllic beach resort of Barra de Navidad, most tourists had left town but a few stayed.
Bill Clark, a 59-year-old tourist from Santa Rosa, California, ate tacos at a street stand while enjoying a balmy Monday night.
"Some people are going out of town but I'm not really worried," said Clark, who has been coming to the town of about 3,000 people since 1994. "I'm from California, I have been through earthquakes."
Authorities readied two elementary schools to serve as storm shelters in Barra de Navidad and Gurza said at least 65 shelters had been opened along the coast in the states of Jalisco, Colima and Nayarit.
Perhaps a couple of hundred tourists remained Monday in Barra de Navidad and the nearby beach town of Melaque, said Armando Martinez, an employee of the civil defense department of Cihuatlan, the township that includes both towns.
Local fishermen were ordered not to go out to sea.
At 8 a.m. EDT (1200 GMT), Jova was centered 130 miles southwest of Manzanillo and was moving north-northeast at 6 mph, the Hurricane Center said. The storm was expected to produce rainfall accumulations of 6 to 12 inches over the states of Michoacan, Colima and Jalisco which could trigger dangerous flash floods and mudslides over mountainous terrain, the center said.
In 1959, an unnamed hurricane struck near Manzanillo, reportedly killing 1,000 people. Detailed reports on hurricanes were not available at the time.
Remnants of Hurricane Jova were projected to pass across the Guadalajara area but to be dissipating by the time the Jalisco state capital inaugurates the Pan American Games on Friday. Puerto Vallarta is scheduled to host two events, open-water swimming and the triathlon, about a week later.
Meanwhile, Tropical Storm Irwin had weakened to a tropical depression farther out in the Pacific with winds near 35 mph. While it was expected to move eastward toward land, it was not immediately clear if it would reach the coast.
The Associated Press contributed to this report.
Follow us on twitter.com/foxnewslatino
Like us at facebook.com/foxnewslatino