Mexico officials find handful of escapees in prison break at Texas border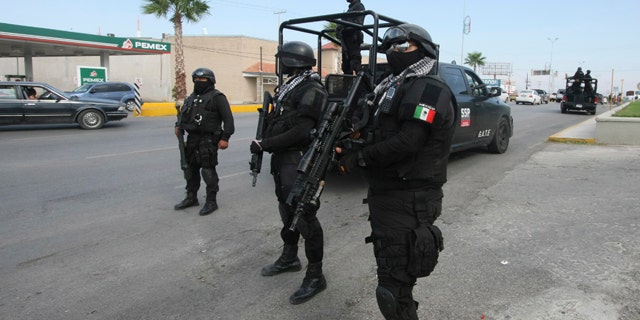 PIEDRAS NEGRAS, Mexico – Officials said Tuesday they have found three inmates thought to have escaped through a tunnel at a northern Mexico border prison, lowering the number of escaped prisoners to 129.
Three female inmates were found hiding in a prison visiting area, Jorge Luis Moran, the public safety secretary of the northern border state of Coahuila, told the television network Televisa.
Federal police units and Mexican troops, including 70 members of an elite military special forces unit, were searching for inmates who fled the prison in Piedras Negras, a city across the border from Eagle Pass, Texas. They escaped Monday through a tunnel 21 feet long and 4 feet in diameter and then cut their way through a chain link barrier.
Moran later said the jailbreak appeared to have been orchestrated by the hyper-violent Zetas drug cartel. "We assume that they organized it," he said.
He said some of the inmates might have been forced to take part in the jailbreak as a way to swell the ranks of the Zetas, who have been fighting a bloody turf battle in Coahuila with the Sinaloa cartel.
The director and two other employees of the state prison have been detained for an investigation.
President Felipe Calderon called the jailbreak "deplorable" in a statement posted on his Twitter account Tuesday. He appeared to re-ignite a long-running dispute between federal and state authorities, writing that "the vulnerability of state law enforcement institutions must be corrected."
Collusion between guards and drug gangs has played a role in past escapes, and federal authorities have been pushing to have all state and municipal police and law enforcement officials submit to background and anti-drug checks, as well as vetting for possible links to organized crime.
But state authorities have been dragging their feet. On Monday, federal Interior Secretary Alejandro Poire said that only 180,000 of the country's 430,000 city and state police officers had been vetted and checked and that about 65,000 of those tested had failed the tests.
A failure rate of about one-third of officers has been a constant in the testing program, which is supposed to conclude with all officers vetted by early 2013. That goal now appears unreachable, and the question remains of what will be done with the officers who failed. All are supposed to be fired, but Mexican labor laws and a shortage of recruits to replace them makes it an arduous process.
For example, federal police have vetted all of their officers, and many have gone through background checks more than once, but many of those who fail are still on the 36,000-member force.
Since the current administration took office in December 2006, about 2,045 federal officers have failed periodic vetting and anti-drug tests, and 302 of them have been fired. About 600 others are involved in the lengthy internal-affairs procedure that could lead to people losing their jobs.
Moran complained that Coahuila's attempts to comply with the vetting process may have been responsible for the low number of guards on duty at the Piedras Negras prison when the jailbreak occurred. Only 12 guards were on duty to watch 734 inmates, after some guards and officials were dismissed after failing background checks, he said.
"People on the administrative and guard staff who did not pass the background checks and who shouldn't be in the prisons have been dismissed, and that resulted in the fact that there weren't more people on duty," Moran said.
In February, nine guards at a prison near the northern city of Monterrey confessed to helping 30 Zetas drug gangsters escape. Not only did the Zetas flee, but during their jailbreak, other Zetas slaughtered 44 inmates who belonged to the rival Gulf cartel.
In December 2010, 153 inmates escaped from a prison in the northern city of Nuevo Laredo, across from Laredo, Texas. Authorities charged 41 guards with aiding that escape.
State authorities complain that their relatively low-security prisons are forced to hold dangerous inmates being held on federal charges like drug trafficking and organized crime.
They have called on federal officials to take federal inmates out of state prisons, and some of the most dangerous federal inmates had been transferred out of the Piedras Negras prison in recent months.
Coahuila Attorney General Homero Ramos said 86 of the escaped inmates were serving sentences or awaiting verdicts for federal crimes, such as drug trafficking, and the rest faced state charges.
The tunnel "was not made today, it had been there for months," Ramos told the Milenio television news channel. Authorities said they also found ropes and electric cables they believed were used in the breakout.
U.S. Customs and Border Protection said it was aware of the mass escape and put officers in the Eagle Pass area on alert, but it had not received any reports of escapees attempting to cross the border, an emailed statement said.