Mexican Man Facing Deportation Finds Sanctuary In Arizona Church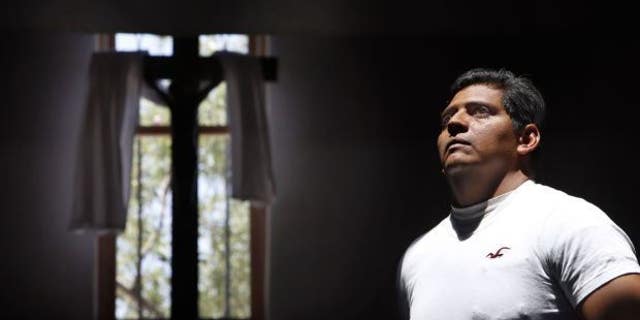 TUCSON, AZ – The Southside Presbyterian Church in Tucson was once a haven for undocumented immigrants – the Tucson church spurred the sanctuary movement three decades ago when it opened its doors to Central American refugees.
Now the church seems to be returning to its roots.
An undocumented man facing deportation entered the church on Tuesday saying he'd rather be confined indefinitely to the inside of the church than return to Mexico and be separated from his family.
As his deportation order, scheduled for Tuesday, approached, the church offered sanctuary to Daniel Neyoy Ruiz, his wife Karla Neyoy, and their only son.
Neyoy Ruiz, a 36-year-old maintenance supervisor at a Tucson apartment complex, entered the United States illegally in 2000. In 2011, an Arizona Department of Public Safety officer turned Neyoy Ruiz over to immigration officials after pulling him over because his exhaust pipe released too much smoke, his attorney says.
He lost a series of immigration court cases and was ordered to leave the country.
Instead, he is taking sanctuary at Southside Presbyterian Church. His wife and American-born son will join him.
Although there is no law preventing immigration agents from taking Neyoy Ruiz into custody now, the church's has been seen as a public sanctuary for immigrants for nearly three decades. Southside Presbyterian's activists roots go back to 1982, when Rev. John M. Fife transformed the church into a sanctuary for Central American refugees.
Neyoy Ruiz says he does not want to separate from his family, especially his 13-year-old son, who is an American citizen. He says he does not have a prior criminal record and contributes to his community and church.
"I want to be with my family to support them in everything I can," he said in Spanish. "I want to have a voice because it's not just me. There are a lot of people like this."
More than 20 percent of deportees claim to have American-born children.
Neyoy Ruiz's attorney, Margo Cowan, has filed an administrative request with the U.S. Immigration and Customs Enforcement to close the case. That means that ICE would not make it a priority to deport Neyoy Ruiz and that he would continue to live in the U.S.
Cowan says she is confident ICE officials will close the case because the agency has shifted deportation priorities to immigrants with criminal records and prior deportations.
A spokeswoman for ICE said the agency was conducting a comprehensive review of the case.
Neyoy Ruiz says he will live in the church as long as it takes. He says fears of being separated from his family and the repercussions of ignoring the order to leave keep him awake at night.
"But I know – I'm sure – that if I don't do this, it's going to be worse because I'm going to lose. I'm not going to throw in the towel," he said.
Based on reporting by The Associated Press.
Follow us on twitter.com/foxnewslatino
Like us at facebook.com/foxnewslatino