Mexican government investigating 28 state officials over 2014 army massacre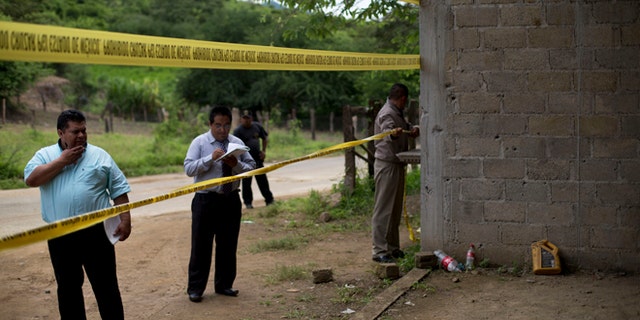 MEXICO CITY (AP) – State authorities said Thursday that 28 officials are being investigated for alleged abuses committed during the cover-up of last year's slaying by soldiers of at least a dozen criminal suspects after they had surrendered.
The government of Mexico state, adjacent to Mexico City, had initial responsibility for investigating the June 2014 bloodshed. Two survivors told the Associated Press that state detectives and prosecutors' agents tortured and threatened them to go along with the army's version that all 22 suspects killed had died during a shootout with troops.
During testimony to a congressional committee Thursday, state prosecutor Alejandro Jaime Gómez Sánchez revealed that 28 officials have been placed under investigation in the case.
State Interior Secretary José Manzur said that the two witnesses are now considered victims and that money is available to pay them reparations. He said any officials found guilty of abusing the witnesses will "be given exemplary punishments under the law."
But Manzur also defended the state's initial response to the killings.
On July 1, a day after the shooting, Mexico state Gov. Eruviel Avila publicly thanked the army for its "bravery" and "firmness" in the confrontation. Manzur said the governor's statement was meant to thank the army "for freeing three kidnap victims, not for the violent actions."
Originally considered kidnap victims, two of the three survivors were jailed for months on weapons charges before being released. They claim they were tortured while in custody.
The federal government's human rights commission found that between 12 and 15 of the suspects cornered at a warehouse last June 30 surrendered but were shot anyway. It also said there was evidence the scene had been altered.
The army initially said all 22 dead were killed in a fierce gun battle with soldiers after a patrol came under fire at the warehouse in the town of San Pedro Limón. It said only one soldier was wounded.
Later, seven low-ranking soldiers, including a lieutenant, were charged in the case. But the rights commission quoted witnesses as saying a possibly higher-ranking officer might have participated in the killings.