Mexican Civilian Vigilantes Turn Violent Gang Members Into Street Sweepers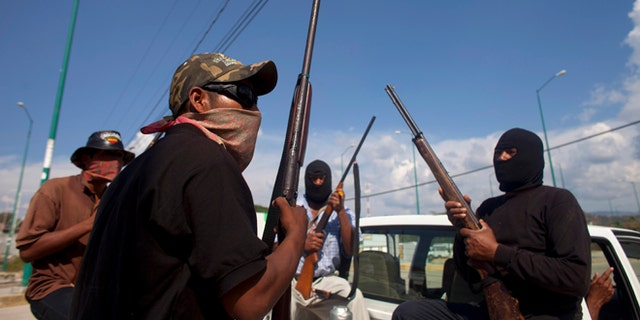 A rag-tag group of civilians with no police training seeing no recourse to fight organized crime but to take the law into their own hands forced gang members into street sweepers.
Members of one of Mexico's famed civilian vigilante groups have forced eight teenagers working as cartel lookouts to do community service as punishment. They were accused of working for the drug trafficking organization Knights Templar, shedding light on how these groups are dispensing justice in the country's rural small towns.
The teenage criminals were accused of working as lookouts for the Knights Templar in Tierra Caliente, Michoacán. The Knights Templar is an off-shoot of the now defunct quasi-religious drug cartel La Familia Michoacana and bills itself as a 'Robin Hood'-type groups that fight for what they call "social justice."
The group operates mostly in Michoacán, but has a presence in several other states. They most recently made headlines for unveiling banners welcoming the visit to Mexico of Pope Benedict XVI in March of 2012 and promising not provoke any violent acts during the pontiff's visit.
"The Knights Templar Cartel will not partake in any warlike acts, we are not killers, welcome Pope," the banners said, according to the Mexican newspaper Milenio.
The captured lookouts were also forced by the vigilantes to wear white T-shirts with declarations such as, "This is my punishment for being a hitman" and, "Out with the Templars" printed on them.
The vigilante group was first organized by businessmen in Tierra Caliente who were tired of being extorted by the cartels. The town of 10,000 people is mainly supported by the lumber industry and businesses were expected to pay 80 pesos -- about $6.50 -- for every cubic meter of wood which they handled.
The group forcibly took over the town's city hall on May 15 in a show of strength, but the Knights Templar allegedly burned down several of the town's wood mills in revenge for the vigilante's actions.
Vigilante groups have recently sprouted throughout Mexico's rural areas as a way to deal with either corrupt or non-existent police forces. While the legality of these groups has been hotly debated in Mexico City, the country does have a history of town's self-policing themselves.
There are long-tolerated community police forces in dozens of towns in indigenous areas of southern Mexico that enforce mainly local laws against disturbing the peace.
Brian Phillips, professor at Mexico's Center for Research and Teaching in Economics, who researches political violence in Mexico, told The Associated Press that "there is a long tradition of community policing by indigenous communities and this has existed without substantial problems for quite a while."
But the creation of organized civilian vigilantes is a fairly new development and the jury's still out on their ultimate societal impact.
"But these new types of groups, these vigilante groups, seem to be a different animal," Phillips said. "I wouldn't be surprised at all if vigilantes started working with drug trafficking organizations."
Follow us on twitter.com/foxnewslatino
Like us at facebook.com/foxnewslatino