Mexican-born farmer in Minnesota hopes to change face of farming, empower Latinos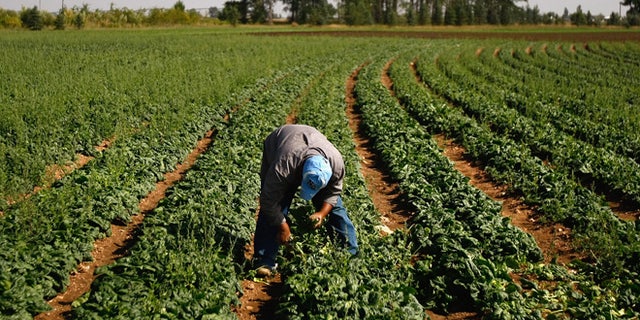 NEWYou can now listen to Fox News articles!
STILLWATER, Minn. – Eduardo Rivera learned how to farm from his maternal grandfather, who grew maize, black beans, pinto beans, apricots, peaches, limes, figs, grapes and tomatoes in Zacatecas, Mexico.
His playground was the farm – the chickens, the animals, the crops – and now, living in Stillwater, Minnesota, it's still the same.
"As a kid, I didn't really have much in terms of possession of toys or a television," Rivera told the St. Paul Pioneer Press. "I just grew up very lucky. I feel like I took that for granted for a time, but now I'm glad I'm doing this."
Rivera, whose family moved to Arizona when he was 10, made the trek further north to Stillwater about six years ago and now hopes to change the face of farming by providing organic produce for low-income Latinos.
He owns Sin Fronteras ("Without Borders"), a 3½-acre farm which he started in 2014. He grows parsley; lemon verbena; indigenous herbs; spinach; lettuces; purple basil; Thai basil; bell peppers; peas; garlic; oats; buckwheat; rainbow chard; orange, purple, red, yellow and white carrots; and seven types of cherry tomatoes.
The 2012 U.S. Department of Agriculture census showed that Latinos make up 50 percent of agricultural workers in the U.S., but only operate or own 3 percent of farms.
"There are a lot of us farming, but … not a lot of us own land," Rivera, who rents from a local farmer. "A lot of people work for people who own land. I'm trying to empower my community and show that we are here and that we do farm - we're just not at the forefront."
About 60 percent of Sin Fronteras' business is wholesale, while the rest is sold through a community-supported agriculture program and at farmers markets.
Rivera said 13 of his CSA members are families of color or mixed race.
"I definitely look for ways to provide more people of color and low-income Latinos with access to what you see here," he said.
The long-term plan is to his own farm and land in 2018 and eventually to open a farm-to-table restaurant that specializes in Mexican food.
"Not having any kind of resources or infrastructure or capital, I have to grow for four years to get the numbers and then apply for a loan to buy my farm," he said. "I'm going to rent one more year, and then I hope to be able to buy my own place. I don't see myself doing anything else."
The Associated Press contributed to this report.