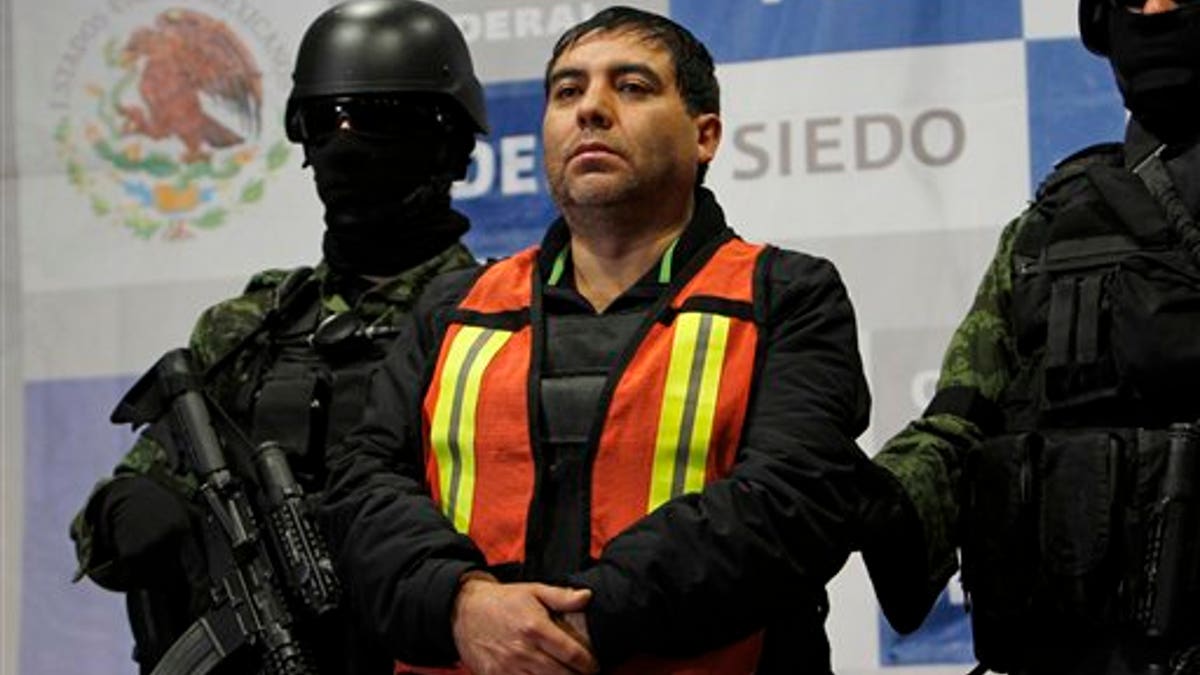 MEXICO CITY – Mexican authorities said Monday that they had dealt a blow to the country's most powerful drug cartel with the capture of a top lieutenant -- but didn't say if they were any closer to capturing the gang's elusive leader.
Felipe Cabrera Sarabia, known as "The Engineer," allegedly ran operations for the Sinaloa drug cartel, Mexico's most powerful, in the northern state of Durango and in part of the northern state of Chihuahua, Chief Army spokesman Gen. Ricardo Trevilla told a news conference. Cabrera, wearing a bulletproof vest, was paraded before the news media in what has become a common practice for law enforcement authorities following major arrests.
Many experts and law-enforcement officials believe the reputed leader of the Sinaloa cartel, Joaquin "El Chapo" Guzman, has been hiding in the mountains of Durango. Authorities say Guzman is Mexico's top drug lord, while Forbes magazine has included him on its list of the world's richest men, reportedly worth more than $1 billion. He has eluded authorities since his 2001 escape from prison in a laundry truck, and has a $7 million bounty on his head.
Trevilla offered no information about the hunt for Guzman. He only said that Cabrera's capture "will affect the structure and leadership of the Sinaloa cartel."
At the time of Cabrera's arrest, army special forces also seized documents and computer equipment, he said.
Cabrera was nabbed without a shot being fired Friday in the capital of Sinaloa state, headquarters of the cartel, army officials first announced Sunday night.
He will be held for at least 40 days on suspicion of participating in organized crime and drug trafficking. Mexican law allows organized-crime suspects to be held that long before prosecutors bring formal charges before a judge.
Trevilla said Cabrera and three of his brothers began as marijuana growers and that Cabrera rose through the Sinaloa ranks by using violence against his rivals.
In recent months, Cabrera waged war against a rival faction of the Sinaloa cartel known as the "Ms", leading to a surge in violence around Durango, he said.
Federal forces have found 14 mass graves containing 287 bodies in Durango state since April.