Merkel wins fourth term as far-right enters German parliament
German Chancellor Angela Merkel's conservative party beat its rivals on Sunday to garner a plurality of the vote, but a far-right party will also enter the country's parliament for the first time in more than 60 years, according to exit polls.
Merkel's conservative bloc won 33 percent of the vote, making them the largest parliamentary group, reports Bloomberg. However, that was down from 41.5 percent in the last election, in 2013.
The exit polls also show that the far-right Alternative for Germany has gotten some 13.5 percent of the vote, a significant showing of voter anger over immigration and inequality.
Merkel is appealing to other German parties to show responsibility "in stormy times" in a bitter exchange with her defeated challenger.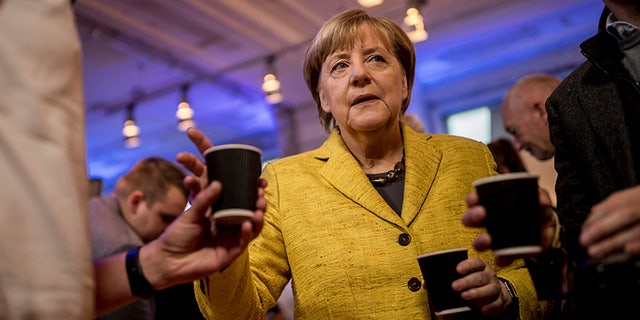 In a television discussion involving major party leaders, Center-Left challenger Martin Schulz accused Merkel of conducting a "scandalous" campaign that avoided debate and created "a vacuum" that the nationalist Alternative for Germany party filled.
Turning to the leaders of the smaller Free Democrats and Greens, her likely future coalition partners, he said: "To keep the chancellery, Ms. Merkel will make any concession."
IN FINAL PUSH, MERKEL SEEKS TO WIN OVER UNDECIDED VOTERS
Support for their closest rivals, the center-left Social Democrats (SPD) which are currently junior partners in a coalition with Merkel, slumped to 20.0 percent, according to exit polls.
Leaders of Germany's Social Democratic Party say they plan to go into the opposition after their disappointing second-place finish in Germany's election.
Their decision complicates things for Merkel, who will have to look to other parties to form a new government coalition.
The Associated Press contributed to this report.