Mayor, police officers of Mexican town arrested for killing 10, burning their bodies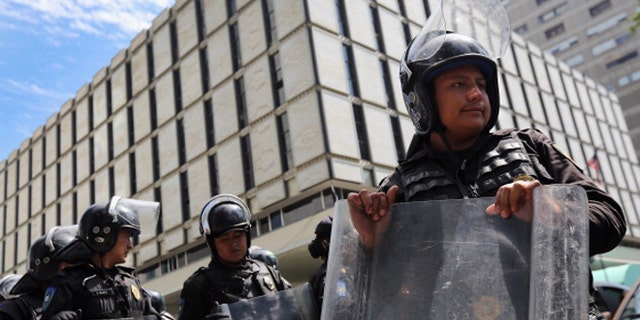 MEXICO CITY (AP) – A mayor and four local police officers have been arrested in a western Mexican state in connection with the murder of 10 people who were killed and burned over the weekend, the state's governor said Tuesday.
Michoacán Gov. Silvano Aureoles said in an interview with Imagen Radio Tuesday that authorities initially thought the bodies found in a pickup near a gas pipeline in Cuitzeo had been somehow related to illegal pipeline taps.
However, Aureoles said that the investigation eventually revealed that police from the town of Alvaro Obregón had detained the victims.
Speaking with Milenio television, Aureoles said that interviews "point directly to the mayor who gave the order." Without naming the mayor, he said he and four police officers had been transported to prison.
State prosecutor José Martín Godoy also said in a news conference Monday night that the mayor gave the order. "After they were detained, on instructions from the mayor, the civilians were transported to a place in Alvaro Obregón where they were killed and then they took the bodies to a property in Cuitzeo where they set them on fire," he said.
The motive appeared to be related to a rivalry over street-level drug sales, Aureoles said.
The state of Michoacán has been convulsed for years by drug violence.
Also, early Tuesday morning, unidentified gunmen killed the mayor of a town in the central Mexican state of Puebla.
The Puebla state Attorney General's Office said Tuesday in a statement that Huehuetlán Mayor Jose Santamaria Zavala was found dead beside his SUV on the side of a rural highway. He appeared to have been shot with a 9mm pistol.
A witness who was travelling in the vehicle with the mayor, but who was unharmed, told investigators that rocks had been placed blocking the highway. Armed men then demanded money from the payroll, but those in the car were not carrying money, the statement said.
He is the fifth Mexican mayor to be killed this year.