Mattis: War with North Korea would be 'catastrophic'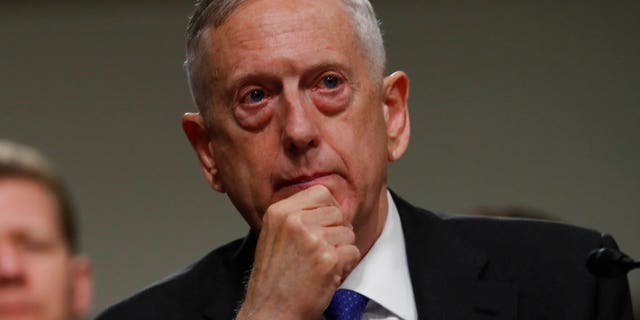 Defense Secretary Jim Mattis said Thursday that war with North Korea would be "catastrophic," casting a dire tone after President Trump unleashed a string of warnings to the rogue nation.
"The American effort is diplomatically led, it has diplomatic traction, it is gaining diplomatic results and I want to stay right there right now," Mattis said while speaking with reporters in Mountain View, California.
"The tragedy of war is well-enough known it doesn't need another characterization beyond the fact that it would be catastrophic," Mattis continued.
Secretary Mattis' remarks followed days of escalating threats between North Korea and the U.S. When asked about the United States' readiness if North Korea were to take action against the U.S. or another country, KNTV reported that Mattis replied: "I don't tell the enemy in advance what I'm going to do … We're ready."
JAPAN READY TO PROTECT GUAM, DEFENSE MINISTER SAYS
Mattis pointed out the United Nations Security Council's unanimous vote last week to characterize North Korea's statements as a "threat to the world's community."
"How often to do you see France, China, Russia, the U.S. voting unanimously on any issue?" Mattis asked.
Earlier Thursday, President Trump turned up the heat on North Korea by threatening stronger consequences if the regime were to attack Guam.
"Let's see what he does with Guam," Trump said of North Korea leader Kim Jong Un's threats to hit the U.S. Pacific territory. "He does something in Guam, it will be an event the likes of which nobody has seen before – what will happen in North Korea."
Meanwhile, Australia's prime minister said his country would come to the aid of the United States if North Korea attacks Guam.
Prime Minister Malcolm Turnbull told Melbourne Radio 3AW: "We would come to the aid of the United States. How that manifests itself will obviously depend on the circumstances and consultations with our allies."
Turnbull added: "If North Korea decides to carry out some of its violent threats, then obviously terrible consequences will follow."
The prime minister says he discussed the threat with Vice President Mike Pence overnight.
The Associated Press contributed to this report.