Mali to sign deal with Tuareg rebels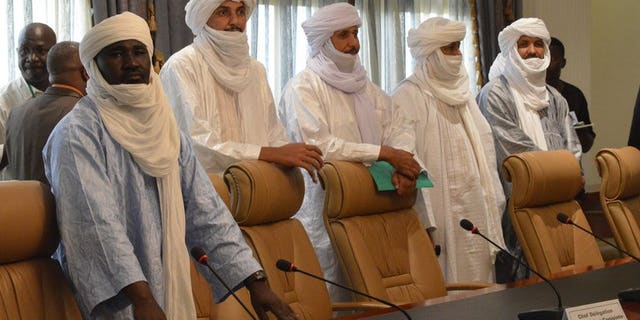 OUAGADOUGOU (AFP) – Bamako will sign a deal with Tuareg rebels on Tuesday that is expected to pave the way for nationwide polls next month, a Mali government envoy told AFP.
After 10 days of often tense negotiations in Burkina Faso, a deal has been reached that will allow the Malian army to enter the key northern town of Kidal -- currently occupied by a rebel group -- to secure the planned July 28 presidential ballot.
"The accord is ready to be signed," said Tiebile Drame, head of the Malian delegation to peace talks in Ouagadougou, where the interim deal will be inked on Tuesday by two main Tuareg rebel groups.
The deal has been a key obstacle in the planning of the elections, seen as key to Mali's recovery from a crisis that saw Al-Qaeda-linked groups seized the northern half of the country for nine months on the back of a March 2012 coup.
The crisis was sparked by a rebellion by Tuareg separatists from the National Movement for the Liberation of Azawad (MNLA) who want autonomy for their northern homeland.
Flush with weapons following the return of Tuareg mercenaries who fought alongside slain Libyan dictator Moamer Kadhafi, the group rapidly overpowered the weak army.
This led angry soldiers to overthrow government in Bamako.
The Tuareg continued their campaign, seizing key northern cities, but they were sidelined by their powerful Al Qaeda-linked allies who chased them out and seized control of the north where they imposed an extreme form of Islamic law.
French troops have in five months reclaimed most lost territory but analysts have warned that Malian soldiers and a UN mission of African forces would struggle to contain Islamist fighters without support from Paris.
The MNLA sided with France during the worst of the fighting this year but it has been reluctant to allow government troops into its Kidal bastion for the election.