London shares close steady, supported by Vodafone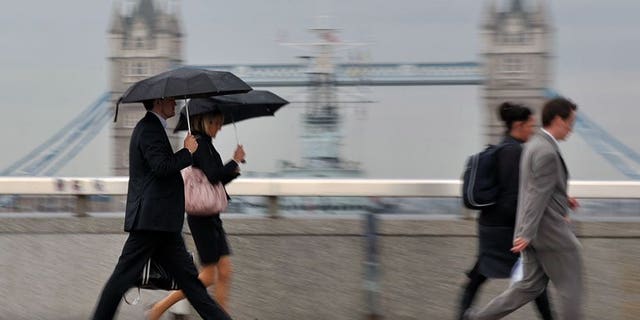 LONDON (AFP) – London shares closed steady on Friday, holding on to the week's gains, as market heavyweight Vodafone rose after unveiling higher sales for its latest quarter.
The benchmark FTSE 100 index eased 3.69 points or 0.06 percent to close at 6,630.67 points, still up sharply from 6,544.94 points last Friday night following a week in which US shares reached record highs..
"An altogether more repressed sentiment prevails today, as disappointing earnings from the global technology sector threaten to take the wind out of the stock market sails," said market strategist Brenda Kelly at trading firm IG.
Traders also digested news that China's central bank will lift controls on lending interest rates, a sign that authorities may be embarking on some form of financial liberalisation economists say is urgently needed.
Vodafone climbed 1.31 percent to 193.85 pence as the mobile phone giant said sales grew in the three months to June as strength in emerging markets countered weakness in Europe.
Total sales, including joint ventures, grew by 2.5 percent to ??10.155 billion in the first quarter or three months to the end of June from a year earlier, Vodafone said in a trading update, adding that it remains on course to meet full-year targets.
"We have made a good start to the year in our areas of strategic focus: growth in emerging markets has accelerated," said chief executive Vittorio Colao in the statement.
Vodafone added that its 7.7-billion-euro takeover of Kabel Deutschland is expected to complete at the end of this year.
Colao added: "The proposed acquisition of Kabel Deutschland will create an excellent platform for our unified communications strategy in our most important market."
Barclays added 0.93 percent to 320 pence following the disclosure that an Abu Dhabi sheikh who helped the bank avoid a state bailout during the global financial crisis has sold his stake.
Sheikh Mansour, who had injected ??3.5 billion into Barclays in late 2008, offloaded his 7.0-percent share last month according to a recent statement which came to the notice of markets only on Friday.
The disposal by the owner of Manchester City football club will have generated a huge profit because Barclays shares have surged by more than 60 percent since the deal was made almost five years ago.
Also boosting the London market was news that British state borrowing fell last month, helped by profits from the Bank of England's bond-buying economic stimulus programme.
Public sector net borrowing, a measure of the public deficit, stood at ??8.5 billion ($12.9 billion, 9.9 billion euros) in June, the Office for National Statistics (ONS) said in a statement, down from ??11.9 billion in June 2012.
Other gainers included British Airways owner International Consolidated Airlines, up 2.30 percent at 288.90 pence, and telecoms incumbent BT, up 1.81 percent at 338.10 pence.
Microchip specialist Arm Holdings led the fallers, dropping 2.55 percent to 897.50 pence. Chemicals group Croda international shed 1.85 percent to 2,552 pence and the London Stock Exchange's own shares sank 1.82 percent, losing some of Thursday's boost from its latest trading update.
On the currency markets, sterling strengthened to $1.5266 at 5:30 pm from $1.5190 late Thursday, and was steady at 1.1619 euros versus 1.1618 euros the previous night.