London anti-terror raids: Woman shot, 4 arrested, police say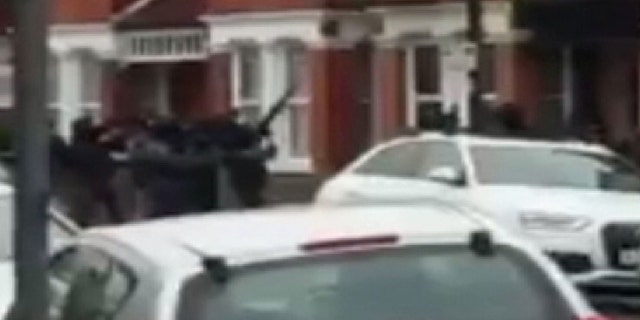 NEWYou can now listen to Fox News articles!
A woman has been shot by police and four people were arrested during an anti-terror operation in north west London and Kent.
Armed officers entered a property in Harlesden Road, Willesden, shortly before 7pm on Thursday evening.
During the raid the woman, who was among a number of people under investigation, was shot. No other people were injured.
In unverified footage from the scene, specialist firearms officers can be seen at the property and a number of loud bangs were heard, which could be gunshots or a battering ram being used.
The woman, aged in her 20s, was taken to hospital where she is under police guard.
Police said she has not been arrested "at this time" due to her condition, which has not been revealed.
As part of the operation, four people have been arrested on suspicion of terror offences.
A 16-year-old youth and a woman, 20, were detained at the property, while a 20-year-old man was arrested nearby.
A 43-year-old woman was held in Kent a short while later.
They are in custody at a south London Police station.
Police said the Willesden property and people connected to it had been "under observation by counter-terrorism officers as part of an ongoing intelligence-led operation".
Detectives are carrying out searches there as well as other addresses across the capital.