Libyan Rebels Say Qaddafi Forces Kill 23 in Misrata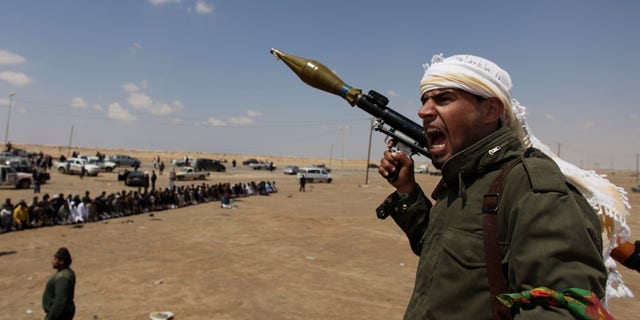 A rebel spokesman said at least 23 people were killed in the city of Misrata Thursday after forces loyal to Muammar al-Qaddafi launched a dawn rocket attack, according to Reuters.
"The death toll has risen to 23 and dozens are wounded. Those killed are civilians and most of them are women and children. We now know that at least three Egyptians were killed in the attack," a rebel spokesman who identified himself as Gemal Salem told Reuters.
A rebel who only gave his first name, Abdel-Salam, said by telephone that a cement factory in the area was destroyed and that residents rushed into the streets in search of safer neighborhoods. Misrata is Libya's third-largest city and the only one in the western part of the country still partly in rebel hands.
He said NATO did nothing to protect civilians from Thursday's attack.
"Every day, the residents find themselves forced to leave their houses, flee to already overcrowded houses with five or six families, which increases difficulty of the humanitarian situation in the city," he said.
A NATO statement said it had conducted 153 sorties in the last 24 hours, striking 13 bunkers, one tank and one armored personnel carrier in the Tripoli area and three multiple rocket launchers in the Brega area.
At the meeting of NATO foreign ministers in Berlin, members of the alliance stressed that their common aim is to bring an end to Qaddafi's regime, and U.S. Secretary of State Hillary Rodham Clinton said the world must increase its support for the Libyan opposition.
Although the alliance agrees that Qaddafi must be ousted, it has been at odds on how to proceed.
One proposal from Italy -- Libya's former colonial ruler -- calls for the Western powers to provide defensive weapons to rebels. France has said NATO isn't doing enough, and was pushing other countries at the meeting to work "on more robust, more efficient, more rapid actions," according to French Foreign Ministry spokesman Bernard Valero in Paris.
The rebels, meantime, want the U.S. military to take a stronger role in the NATO-led air campaign, although the Obama administration has been insisting the U.S. will stick to its plan to remain in a supporting role, and the Pentagon noted that Americans have flown 35 percent of all air missions over the last 10 days.
Clinton appealed to the other NATO foreign ministers for unity.
"As our mission continues, maintaining our resolve and unity only grows more important," Clinton said. "Qaddafi is testing our determination."
NATO members are "sharing the same goal, which is to see the end of the Qaddafi regime in Libya," Clinton said. "We must also intensify our political, diplomatic and economic mission to pressure and isolate Qaddafi and bring about his departure."
The world must "deepen our engagement with and increase our support for" the Libyan opposition, she added.
NATO Secretary-General Anders Fogh Rasmussen said the alliance and its partners "are fully engaged in operations to safeguard the people of Libya, taking every measure possible to prevent Qaddafi's brutal and systematic attacks."
The alliance is keeping up "a high operational tempo," he added.
"In reality, we have the same objective -- this objective is to allow the Libyan people to enjoy democratic freedom," French Foreign Minister Alain Juppe said.
"There will not be a military solution to the problem. There can only be a political solution," he said. "There is no future in Libya with Qaddafi."
German Foreign Minister Guido Westerwelle said Berlin agrees with France and others that "Libya can only have a good future if this dictator goes."
At the Cairo meeting of top diplomats, European Union foreign policy chief Catherine Ashton said Qaddafi "must leave immediately" and that Libyans should be given a chance to choose a new leader.
Arab League chief Amr Moussa told reporters after the meeting that the situation in Libya is "very grave."
"We want to reach a political solution in Libya, starting with a cease-fire," he said.
Brief clashes erupted between pro- and anti-Qaddafi demonstrators outside the meeting. The two camps hurled rocks at each other, with at least one protester seen with blooded face after being hit in the head with a stone. The anti-Qaddafi protesters outnumbered the pro-Qaddafi demonstrators, chased them and forced them to flee.
The Egyptian army has not intervened, despite the heavy presence of armed forces in Tahrir Square, where the clashes occurred.
A Tripoli resident said many people are fasting Thursday, in preparation for mass protests on Friday, which will mark the anniversary of the 1986 U.S. raid on Tripoli.
"People are fasting asking for God's help and support for the protesters who are going out tomorrow to call for Qaddafi to step down," he said.
Prices are skyrocketing, with gasoline scarce and long lines in front of bakeries, the resident said, adding: "Life is becoming harsh in Tripoli."
Before the latest shelling of Misrata, Libya's deputy foreign minister, Khaled Kaim, had alleged that several Lebanese militants from the Shiite Muslim Hezbollah group were fighting alongside the rebels there.
"There are elements of Hezbollah in Misrata," he told a news conference in Tripoli on Wednesday. He did not offer evidence, but added: "I am sure all the intelligence agencies in Western countries know that."
Kaim accused the international community of blindly siding with the rebels. "They don't even know their (the rebels') identity," he said of Western leaders.
Rebel leaders have said they would only consider a truce if it Qaddafi is removed from power first.
The Associated Press contributed to this report.