Latino veterans among the thousands forming human shield around N. Dakota protesters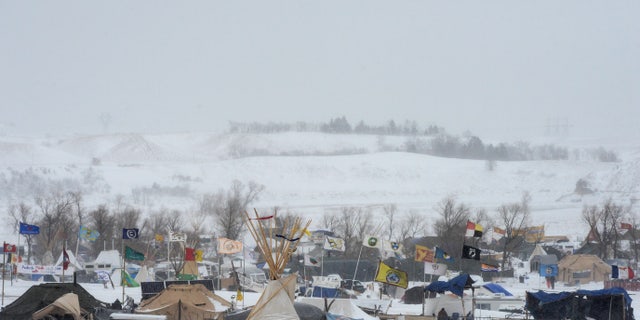 The group "Veterans Stand for Standing Rock" is expecting some 2,000 of their members will be in North Dakota Sunday to form a human shield around the protesters demonstrating against the Dakota Access Pipeline.
The arrival of the vets is the latest addition to an ongoing battle between demonstrators and the proposed pipeline.
Opponents of the pipeline, the Standing Rock Sioux and other Native American Tribes, call themselves "water protectors" and fear the pipeline could pollute the Missouri River and harm sacred cultural lands and tribal burial grounds.
Daniel Calderon, a former U.S. Marine and retired Los Angeles Police officer told Fox News Latino the situation at Standing Rock had bothered him from the beginning.
"A lot of people have gotten used to pollution in the air, and climate changes," he said. "I compare it to the flag burning issue. The symbol of our nation is the prairie, isn't destroying that as un-American as burning the flag?"
Protesters have spent months rallying against plans to route the $3.8 billion 1,172-mile Dakota Access Pipeline beneath a lake near the Standing Rock Sioux reservation, insisting it poses a threat to water resources.
The U.S. Commission on Civil Rights has accused law enforcement of using "military-style equipment and excessive force" against Native American protesters.
The veterans on Sunday will be going to the Oceti Sakowin campsite. They said they chose Dec. 3 because the U.S. Army Corps of Engineers (USACE) has announced they would close the protest camp Dec. 5. Officials have said they will not forcibly remove protesters, but all those refusing to leave will be subject to prosecution and arrest.
"When we get there, we're not just Latinos, blacks or whites, we are veterans," Erick Lizandro Marroquin, on the Veterans Standing for Standing rock members told Russia Today. "So, they will be shooting or threatening the uniform of the United States military. But it doesn't have to get to this point," he added.
The pipeline project is owned by Texas-based Energy Transfer Partners LP, it is mostly complete, except for a segment planned to run under Lake Oahe, a reservoir formed by a dam on the Missouri River.
"We're hoping if we stand together in formation and look the aggressors in their face… if they can treat us the same way [as protesters] then that should showcase to the American people what's going on up there," Ashleigh Jennifer Parker, a Coast Guard veteran and spokeswoman for Veterans Stand for Standing Rock, told USA Today.
On Monday, North Dakota Governor Jack Dalrymple ordered an emergency evacuation of the camp, citing weather conditions. Local law enforcement announced plans to block supplies from entering the camp, but reversed course and said they would simply check vehicles for prohibited supplies and issues fines as much as $1K for violating the governor's order.
Dalrymple has said that it's probably too late to reroute the pipeline, but according to Reuters, he has requested a meeting with the Standing Rock Sioux Tribal Council to restore their tenuous relationship.
Calderon calls himself a "Chicano-power Latino" and says he expects to get on the bus from Los Angeles to North Dakota, and arrive to connect with loving people, join hands, pray and provide spiritual strength to the protestors.
About the anticipated violence of having the veterans there, standing between the protestors and law enforcement, Calderon says, "The elders there are no strangers to talking down an angry warrior and turning them into peaceful men and women. We're brown and we're red. We're not bad people."
Like us on Facebook
Follow us on Twitter & Instagram