Large wave of Cuban migrants opting to cross 8 countries to enter U.S. via Mexico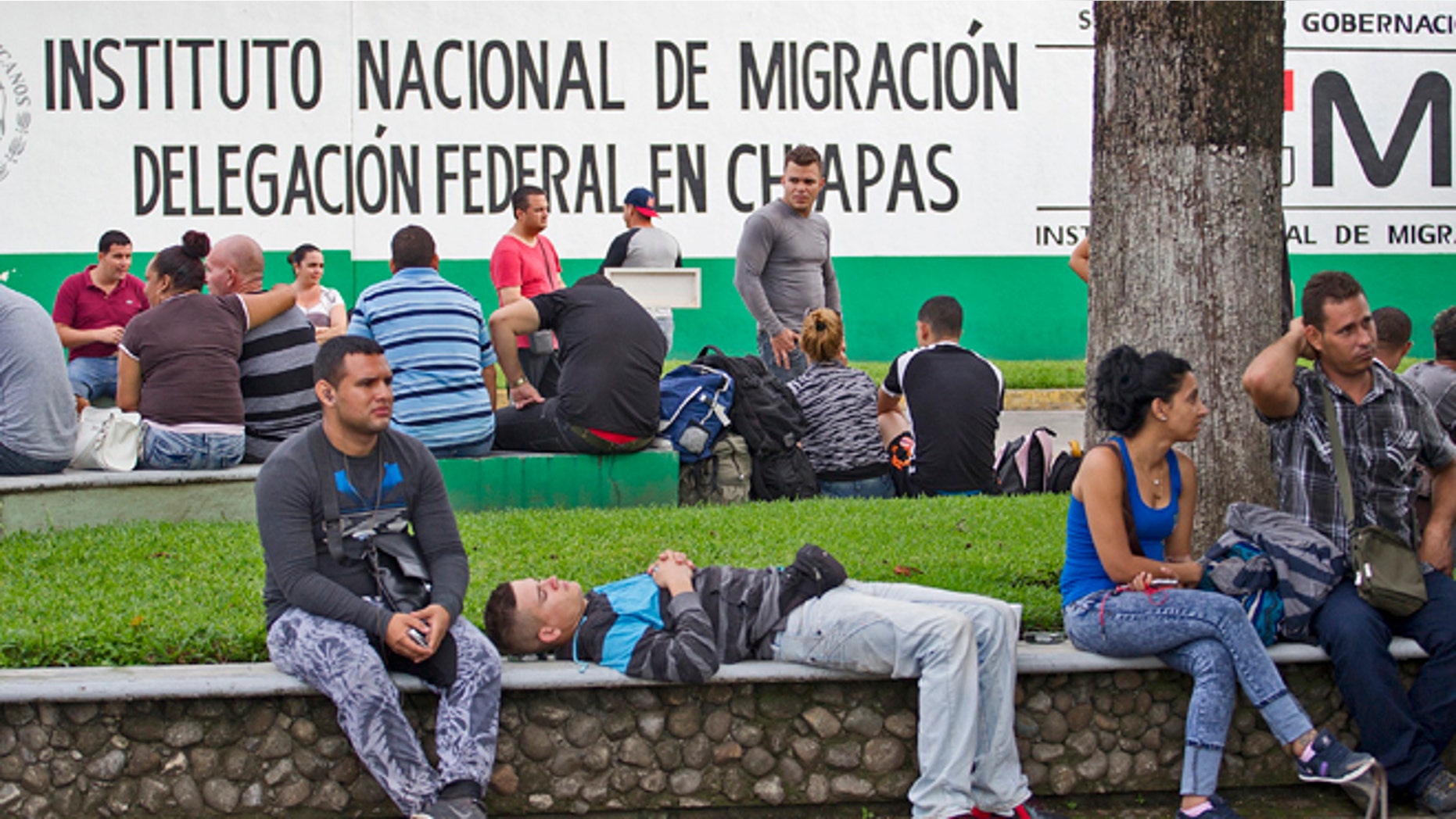 Mexico City – Priest César Cañaverales takes a small bus from the migrant shelter called Jesus the Good Shepherd at the Mexico-Guatemala border city of Tapachula in Chiapas, to an immigration station a couple of miles away.
About 120 Cubans, mostly men, await him.
Among them is Yoel Limonta. "The only thing that I think about is arriving in Miami so I can eat a good piece of pork," he told Fox News Latino.
Limonta is one of thousands of Cuban migrants who now are choosing to take a long, dangerous journey of thousands of miles in order to bridge the 90 miles between Cuba and Florida.
Over the past two or three months, Cañaverales has seen a alarming increase in the number of Cubans crossing into Mexico who have traveled from Ecuador – the only South or Central American country that does not require Cubans to obtain a visa to visit – through seven other countries to try and reach the United States.
From Ecuador, the Cubans journey through Colombia, Panama, Costa Rica, Nicaragua, Honduras and Guatemala. For decades, Cubans took a boat or raft to reach Florida – but a recent crackdown by the Coast Guard and a thaw in relations has thousands of Cubans making this long and arduous journey. Cubans are protected by the "wet-foot, dry-foot" policy, which grants them residency if they set foot on American soil, but many fear normalizing of relations between the two countries could lead to elimination of that special status.
That has prompted thousands of Cubans to leave the country in droves. And it has sparked infighting among Central American countries, because they don't want the Cubans staying there.
Cañaverales said just two years ago, an average of 20 Cubans a day would arrive in Tapachula. Now, he is seeing 200 Cubans a day show up.
"If we go to Miami by boat, there's more risk of us drowning, and if they catch us in the sea they will send us back," 30-year-old migrant José Alvarado told FNL.
Number of Cubans seeking asylum:
Laredo, Texas
2014: 15,600
2015: 28,300
San Diego 
2014: 1,300
2015: 1,600
Miami
2014: 4,700
2015: 10,000
Courtesy of the U.S. Customs and Border Protection
While a large number of Cubans are staying in Central America, many continue their voyage and reach the U.S. border. According to the U.S. Border Patrol, the largest spike in the Cuban population was seen in the border town of Laredo, Texas. There were 15,612 Cubans who requested asylum there in 2014, and 28,371 of Cubans who have requested it this year, the Border Patrol said. That's an 80 percent jump in one year.
In comparison, Miami, which has historically had the largest population of Cuban-Americans in the country, saw 4,709 Cubans enter without documentation in 2014 and almost 10,000 in 2015.
"We continue to seek to promote safe, legal and orderly migration from Cuba under our Migration Accords and deter dangerous unlawful migration from Cuba," Border Patrol spokesman Rick Pauza told Fox News Latino. "U.S. Customs and Border Protection maintains a robust posture regarding the enforcement of our immigration laws along the nation's borders and coastal areas. And our Coast Guard cutters aggressively patrol the Caribbean and Florida Straits to interdict migrants traveling from Cuba to the United States by water."
This year, the Coast Guard intercepted nearly 3,000 Cubans on boats trying to make it to U.S. shores, according to the Wall Street Journal.
Mexico's National Migration Institute (INM) says that in the first 10 months of 2015, a little more than 9,300 Cubans illegally entered Mexico. That's a monthly average of 1,000 officially recognized Cuban entrants, according to Tapachula activists.
Olga Sánchez, founder of the Jesus the Good Shepherd shelter, estimates that the route from Cuba to Ecuador costs as much as $8,000 dollars in expenses – including plane tickets, smuggling costs, food and ground transportation. The figure is based on the testimonies of Cuban migrants who stayed at the shelter while they waited for money from their family members to continue the journey.
Limonta, who is traveling with his wife, said they had just received "safe passage" from the INM in Tapachula. That meant they had 10 days to cross all of Mexico. He called it 10 days of happiness.
"[In Cuba] there is no food, no freedom to make a living, no money," Limonta said. "I earned $8 a month, and a tray of chicken costs $20.  And even if I had money, there are shortages – there isn't anything."
Mexico is issuing safe passages to the majority of the Cuban migrants.
"No one has been denied this since the crisis started," said Cañaverales. The long overland migration "leaves them at the mercy of assailants who want to steal from them, charge them in dollars for services or turn them into drug smugglers if they let them."
Mexico's Office of Migration Policy says 248 Cubans have been deported back home so far this year.
Not all the other countries on the route have been so permissive.
At the end of last week, Costa Rica tried to return a group of more than a thousand Cuban migrants back across the Panamanian border.
"Costa Rica is cutting off that chain at this time," Kattia Rodríguez, the director of the nation's Migration Department told the Nuevo Herald last Thursday. "We are notifying Panama about this flow, arriving in Costa Rica from Panama and moved by organized crime mafias."
Panama refused to accept the migrants. On Friday, Costa Rica agreed to give them transit visas.
On Sunday, however, the Nicaraguan army prevented the migrants from crossing its border, and a government spokesman denounced San José for "a deliberate and irresponsible action," violating international accords and causing a humanitarian crisis. On Tuesday, Costa Rican Foreign Minister Manuel Gonzalez said there were nearly 2,000 Cubans at the border being blocked from continuing their journey north by Nicaraguan soldiers and proposed the creation of a "humanitarian corridor" for them.
Earlier this month, Cuban President Raúl Castro visited Mexico and joked about retiring there. The topic of migration was discussed.
Among the accords announced was a memorandum of understanding to "guarantee the legal, orderly and safe flow of migration" between the two countries, and to "prevent and combat human trafficking" and related crimes.
According to Rubén Cortés, an analyst and the author of "Cuba, Cuba," in the new stage of U.S.-Cuba Relations, Mexico has taken on the role of the club bouncer letting in the wave of Cubans by land.
"Havana always plays the 'wild migration card,'" Cortés said. "Now if Mexico doesn't play friendly with Cuba [on issues such as debt relief and soft loans], Cuba will throw at them a wave of migration to Chiapas or to Cancún, as well as Raúl Castro himself."
The Associated Press contributed to this report.