LAPD probes possible connection of gay porn star to Hollywood dismemberment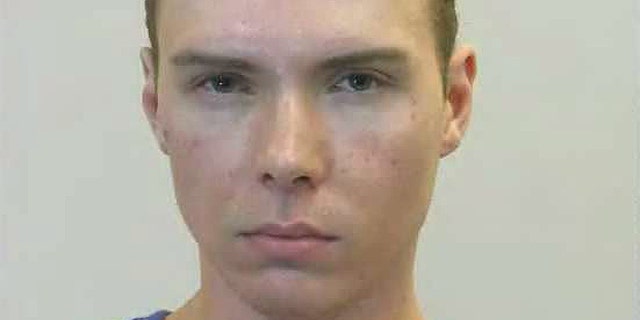 Detectives in Los Angeles are probing the possibility that the gay porn star suspected of killing and chopping up a Chinese student in Canada could be connected to an unsolved murder in Hollywood Hills earlier this year.
Detectives want to know where suspect Luka Rocco Magnotta was in January, when the hands and feet of 66-year-old Hervey Medellin were found by two dog walkers near the famous "Hollywood" sign in Hollywood Hills, Officer Norma Eisenman, a spokeswoman for the Los Angeles Police Department, told FoxNews.com.
"They're just trying to see if there are any similarities," Eisenman told FoxNews.com early Friday of the two cases.
Magnotta, 29, was arrested in Berlin on Monday following an international manhunt and is suspected of killing and dismembering Jun Lin, 33, before mailing some of his body parts to Canadian political parties in Ottawa and schools in Vancouver. Canadian police have said they will conduct DNA tests to confirm a match. Lin's head remains missing.
Authorities in Montreal believe Magnotta has spent time on the West Coast. Montreal Police Department Cmdr. Denis Mainville has said investigators will scour hundreds of homicide case throughout the past three decades for any possible links to Magnotta.
Investigators have said Magnotta videotaped the dismemberment of Lin inside his apartment and posted it online May 25. The videotape also depicts the suspect eating parts of the body, according to police. A copy of the video viewed by The Associated Press did not show cannibalism, but police suggested they have a more extensive, unedited version.
Meanwhile, a Los Angeles-based animal rights group says Magnotta first appeared on advocates' radar in 2010 when he started posting "horrific" videos of animal abuse online.
"The videos began with a cat being fed to a snake then progressed to the torture and suffocating of kittens," Last Chance for Animals (LCA) said in a statement posted on its website. "LCA was one of the few organizations that did not dismiss the videos as fake. LCA reached out to law enforcement in the U.S., Canada, and to Interpol about the videos but didn't receive a response."
Using thousands of page of pseudonyms and online posts by Magnotta throughout the years, LCA's Special Investigations Unit predicted the suspect would check websites and videos of himself from mobile devices and Internet cafes while evading authorities.
In an attempt to lure Magnotta, the group posted a video about him, dubbing the former porn actor "The James Dean Killer." A second video entitled "1 Man 1 Icon" was also posted to continue the ruse, utilizing family photos of Magnotta not yet published in mainstream media. The sites, according to the group, quickly received numerous hits from France and Germany when Magnotta was believed to be in those countries.
When Magnotta was apprehended and arrested in Berlin after days in Paris, he reportedly told investigators he was watching YouTube videos of himself.
"This case clearly demonstrates a link between cruelty to animals and violence toward humans," the group's statement continued. "LCA is pushing for tougher sentences to be handed out to animal abusers and an 'animal abusers' offenders list."
On Thursday, German prosecutors said a decision on Magnotta's extradition could be made within days. The decision isn't expected before next week, spokesman Martin Steltner told The Associated Press.
Magnotta's court-appointed attorney, Evelyn Ascher, declined comment on Thursday, saying in an email: "Until further notice I am not able to give any interviews, as there are too many requests."
A male-to-female transsexual who claims she dated Magnotta said he desired to be "legendary" by any means possible.
"I think he did it to be famous," Nina Arsenault told HLN's Dr. Drew. "He wanted to be legendary in any way he could be."
Arsenault, who said she fell for Magnotta 10 years ago, said the man she knew back then was not capable of the "heinous" alleged crimes.
"He was the first man who showed any kind of interest in me" Arsenault said. "I had high hopes at the beginning. At first he was extremely charming — sort of the 'life of the party.' As time went on, I began to see his manipulations and a lot of lies."
The Associated Press contributed to this report.