Kim Jong Un's running bodyguards back in action in Singapore for US-North Korea summit
Kim Jong Un arrived in Singapore on Sunday for the historic summit with President Trump — and brought his army of bodyguards along with him.
The North Korean leader's security detail was out in full force on Sunday shortly after Kim's plane landed in Changi Airport. The video showed the men, dressed in black suits with blue-and-white-striped ties, jogging alongside a black vehicle with tinted windows carrying Kim.
KIM JONG UN TERRIFIED SOMEONE WILL KILL HIM AT SINGAPORE SUMMIT
The bodyguards caught worldwide attention during the inter-Korean summit in late April when the suited North Korean men were spotting trudging along in a similar bizarre scene that was spotted Sunday. The bodyguards formed a human shield around Kim's black Mercedes limousine at the Demilitarized Zone before it drove into North Korean territory.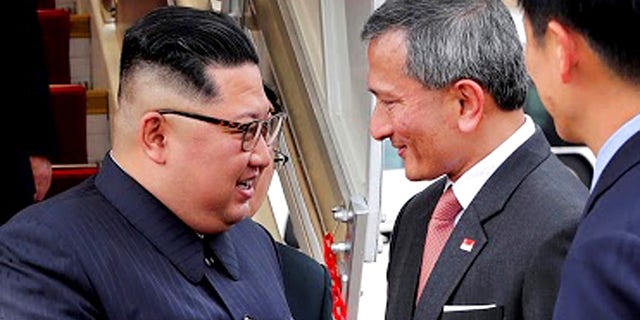 North Korean leaders have been known to travel with an iron-clad security detail when on trips, even to the North Korea's countryside to inspect facilities. The bodyguards are chosen for their fitness, looks, marksmanship and martial arts skills, AFP reported.
Ri Yong Guk, a North Korean defector who once served on the late Kim Jong Il's security detail, wrote in a 2013 memoir that the former North Korean despot had up to six different layers of security guards.
TRUMP ARRIVES IN SINGAPORE AHEAD OF CRITICAL SUMMIT WITH NORTH KOREAN LEADER KIM JONG UN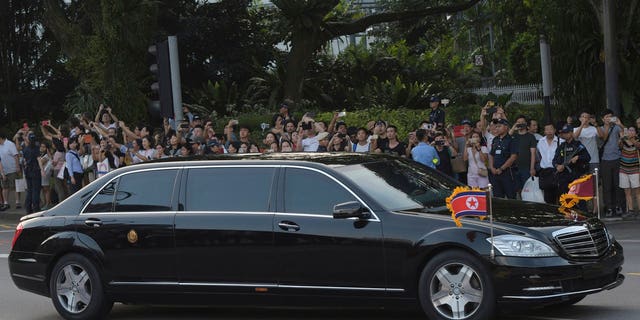 "It is one of the world's tightest security blankets through which even a single ant would find it hard to go," Ri wrote in the memoir, according to AFP.
Kim arrived in Singapore hours before Trump arrived in Air Force One. The U.S. president told reporters he felt "very good" about the historic summit moments before he was whisked away to his hotel.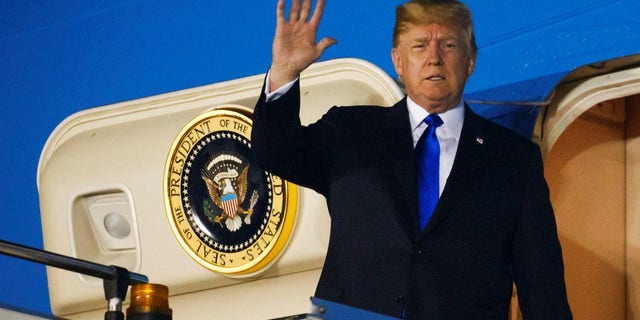 U.S. and North Korean officials are set to meet Monday morning in Singapore to make final preparations for Tuesday's meeting between Trump and Kim.
This will be the first summit of its kind between a leader of North Korea and a sitting U.S. president. The North has faced crippling diplomatic and economic sanctions as it has advanced development of its nuclear and ballistic missile programs.
The Associated Press contributed to this report.