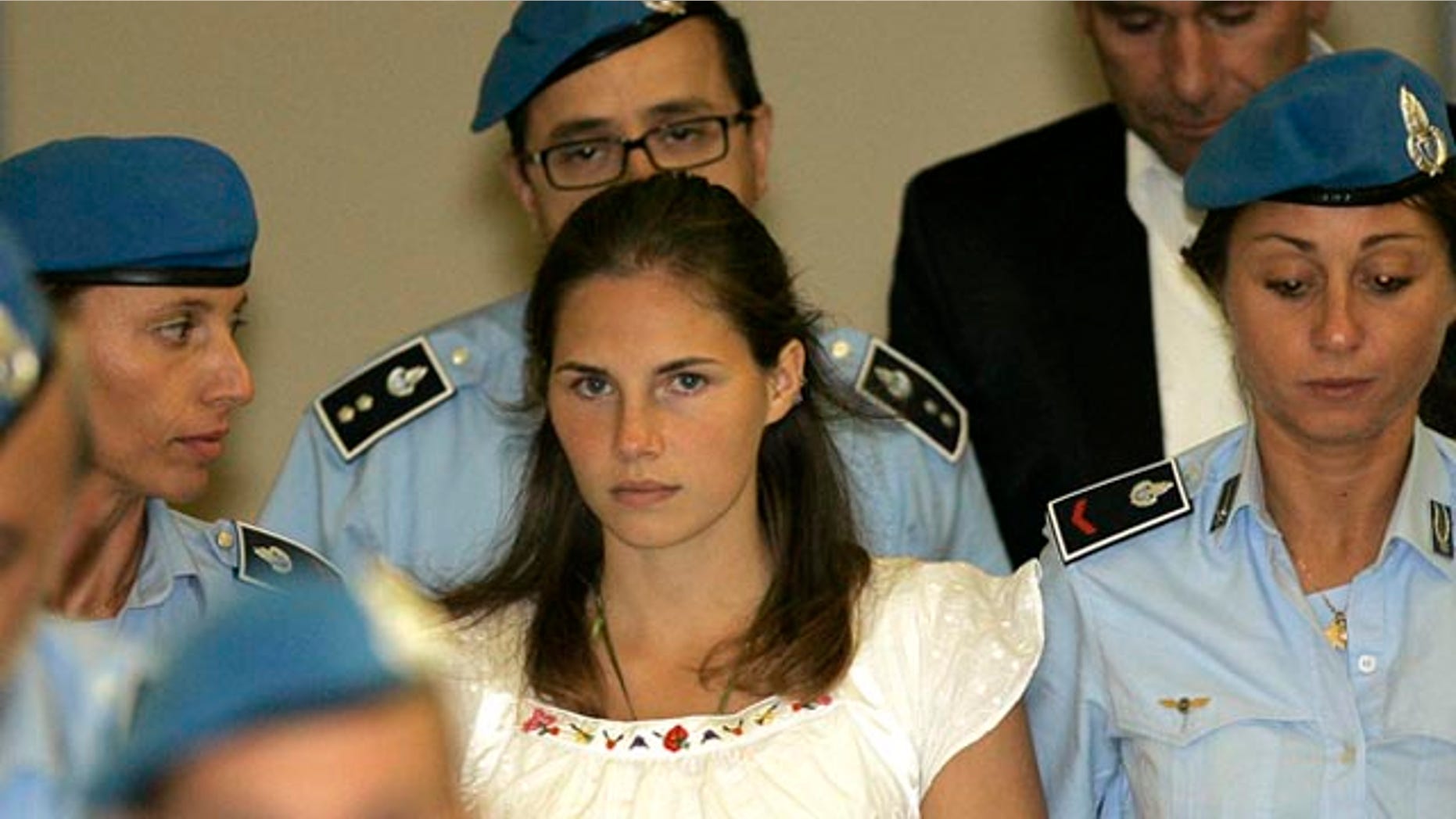 Key dates in case of American student Amanda Knox, convicted in slaying of British roommate Meredith Kercher.
•Nov. 2, 2007: Body of Kercher, 21, found in Perugia apartment. Investigators say she was killed the night before.
•Nov. 6, 2007: Knox arrested with then-boyfriend Raffaele Sollecito, and Diya "Patrick" Lumumba, Congolese owner of pub where Knox worked.
•Nov. 20, 2007: Lumumba, implicated by Knox statements to police released from jail for lack of evidence. Ivory Coast national Rudy Hermann Guede arrested in Germany.
•Dec. 6, 2007: Guede extradited from Germany and jailed upon arrival in Italy.
•Dec. 14, 2007: Kercher laid to rest after London funeral.
•April 1, 2008: Italy's top criminal court rejects requests by lawyers for release of Knox, Sollecito and Guede.
•Sept. 16, 2008: Knox appears in court for preliminary hearing to determine whether she and other two suspects must stand trial. Guede granted fast-track trial.
•Oct. 28, 2008: Judge indicts Knox and Sollecito on murder and sexual assault charges. Guede convicted of murder and sexual assault; sentenced to 30 years in prison.
•Jan. 16, 2009: Trial of Knox and Sollecito opens in Perugia.
•June 12, 2009: Knox takes stand; tells court she was shocked by Kercher's death, offers alibi, says police beat her into making false statement.
•Nov. 18, 2009: Guede appeals trial opens. He testifies he heard Kercher arguing with Knox minutes before the slaying.
•Dec. 4, 2009: Court finds Knox guilty of murder and sexual assault; sentences her to 26 years in prison. Sollecito convicted of same charges and sentenced to 25 years.
•Dec. 22, 2009: Appeals court upholds Guede conviction but cuts sentence to 16 years.
•Nov. 8, 2010: Judge orders Knox to stand trial on slander charges for claiming police beating.
•Nov. 24, 2010: Appeals trial for Knox and Sollecito scheduled to open in Perugia.