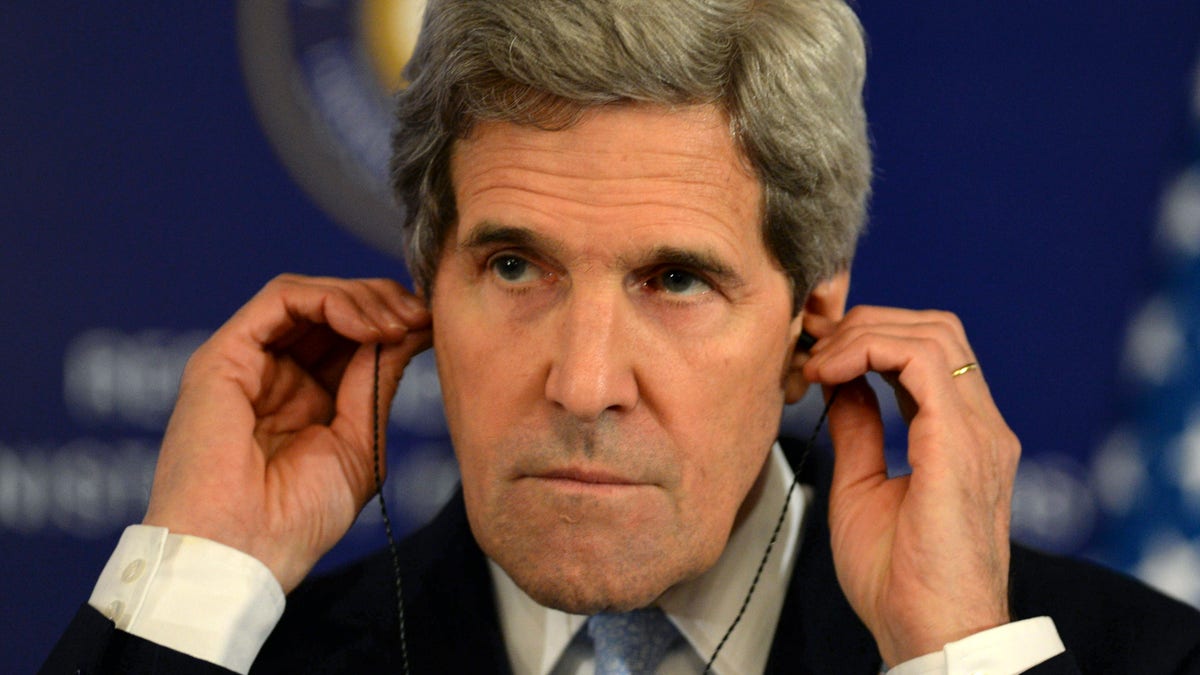 ISTANBUL – U.S. Secretary of State John Kerry on Sunday urged Turkey to speed up and cement an American-brokered rapprochement with Israel, and he explored with Palestinian officials new ways to relaunch Mideast peace efforts.
Those are second-term foreign policy priorities for President Barack Obama, and Kerry tried to advance them in meetings with Turkey's foreign minister, Ahmet Davutoglu, and the Palestinian Authority president, Mahmoud Abbas.
On a trip to Israel last month, Obama secured a pledge from Turkish and Israeli leaders to normalize ties that broke down after a 2010 Israeli raid on a Gaza-bound aid flotilla that killed eight Turks and a Turkish-American.
But the rapprochement has been slow, fueling concerns that Turkey may be backsliding on its commitment.
Israeli and Turkish negotiators plan to meet this coming week to discuss Turkey's demand for compensation for victims of the flotilla. U.S. officials hope the discussions will jumpstart the process of restoring full diplomatic relations and exchanging ambassadors between two countries that Washington sees as vital strategic partners in the volatile Middle East.
The raid sparked throughout outrage in Muslim-majority Turkey, making it politically difficult for the prime minister, Recep Tayyip Erdogan, to bend to persistent U.S. appeals to improve relations with Israel.
In March, Obama extracted an apology for the raid from Israeli Prime Minister Benjamin Netanyahu that broke the stalemate.
Kerry said he understood the anger and frustration of those Turks who lost friends and family in the raid. The former Massachusetts senator said last week's Boston Marathon bombings made him acutely aware of the emotions involved.
"We have just been through the week of Boston and I have deep feelings for what happens when you have violence, when something that happens when you lose people that are near and dear to you," he said. "It affects the community, it affects the country. But going forward, you know, we have to find the best way to bring people together and undo these tensions and undo these stereotypes and try to make peace."
Kerry said he had a "prolonged and constructive" discussion with Davutoglu, about "the importance of completing the task with respect to the renewal of relations between Turkey and Israel."
Kerry added that he believed Erdogan, whom he did not meet on this trip, and Davutoglu "are deeply committed to fulfilling all of the obligations of that understanding."
Erdogan plans to visit Obama at the White House on May 16, and U.S. officials are keen to see substantive process by then. Kerry said Erdogan's visit "will be an important next step in this ongoing dialogue."
"We would like to see us get to a point where we are moving on improving the situation in Gaza, which was part of the agreement ... and where we are also completing the tasks of moving to full diplomatic relations between the countries, which would be very beneficial to everyone," he said.
Erdogan's plans to visit the Hamas-controlled Gaza Strip sometime in May after his trip to Washington have raised concerns. Both Israel and Abbas, whose Palestinian Authority is based in the West Bank, are opposed.
Kerry said he had made it clear to the Turks that such a trip "shouldn't take place at this time."
"It was our feeling, in a constructive way, that we thought that the timing of it is really critical with respect to the peace process that we are trying to get off the ground. We would like to see the parties begin with as little outside distraction as possible."
With Abbas, Kerry was talking about ways to improve the Palestinians' living conditions as a confidence-building measure to improve the atmosphere for a resumption in stalled peace talks with Israel.
Kerry has said he fears there is only a two- or three-year window of opportunity to reach a deal on a two-state solution that would end the decades-old Israeli-Palestinian conflict and wants to move as quickly as possible. He has met with Abbas and Netanyahu several times already to that end since becoming secretary of state.
Kerry was in Istanbul primarily to attend an international conference on Syria that began on Saturday and stretched into early Sunday as participants debated how best to boost aid to rebels trying to topple Syrian President Bashar Assad's government.
At the conference, he announced that the Obama administration would double its nonlethal assistance to the Syrian opposition with an additional $123 million in supplies that could include for the first time armored vehicles, body armor, night vision goggles and other defensive military supplies.
"I can't tell you how quickly it will change things on the ground," Kerry said Sunday. "I can promise you that as soon as I return to Washington, I am going to press as hard as I can" to get it to the opposition within a matter of weeks.
"This has to happen quickly, it has to have an impact," he added.
The additional aid, which brings total non-lethal U.S. assistance to the opposition to $250 million since the fighting began more than two years ago, "underscores the United States' firm support for a political solution to the crisis in Syria and for the opposition's advancement of an inclusive, tolerant vision for a post-Assad Syria," Kerry said.
The U.S. pledge was the only tangible, public offer of new international support at the meeting of the foreign ministers of the 11 main countries supporting the opposition and fell well short of what the opposition has been appealing for: weapons and direct military intervention to stop the violence that has killed more than 70,000 people.
The Syrian National Coalition is seeking drone strikes on sites from which the regime has fired missiles, the imposition of no-fly zones and protected humanitarian corridors to ensure the safety of civilians.
While pleased with the U.S. moves, the opposition appeared deeply disappointed, especially as it lost some ground in the latest clashes with Syrian troops backed by pro-government gunmen capturing at least one village in a strategic area near the Lebanese border.
With the exception of the United States, none of the participants offered new assistance, although European nations are considering changes to an arms embargo that would allow weapons transfers to the Syrian opposition.