Kenya VP Ruto to go on trial in The Hague: ICC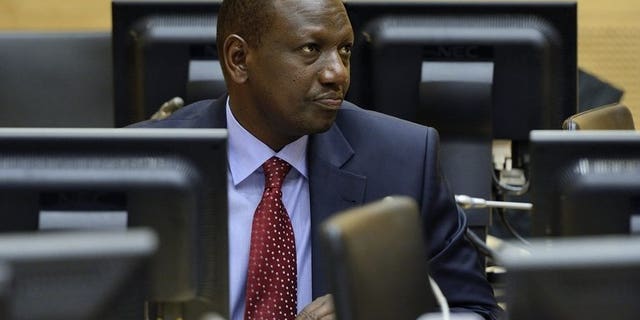 THE HAGUE (AFP) – Kenya's Deputy President William Ruto will be tried for crimes against humanity in The Hague in September, the International Criminal Court said on Monday, slapping down a request by defence lawyers to have the hearing moved to Africa.
"The judges of the ICC have decided... that the commencement of the trial against William Ruto will take place at the seat of the court in The Hague, Netherlands," the tribunal said in a statement.
Ruto, 46, faces three counts of crimes against humanity over deadly violence that erupted in Kenya after elections in late 2007, which claimed some 1,100 lives and displaced around 600,000 others.
The Hague-based court last month set September 10 as the start date for the trial of Ruto and fellow-accused Joshua Arap Sang, 37, but at the time recommended that part or all of the high-profile hearing be held in Kenya or Tanzania.
In January, both Ruto and Sang's lawyers asked judges to move the trial from The Hague to the two African countries, saying a hearing there would "cause minimum disruption to the public and private lives of the defendants."
But judges Monday ruled for a home-based trial, saying they reached their conclusion "after an extensive discussion that considered the observations of all the parties."
"Judges took into account numerous factors such as security, the cost of holding proceedings outside The Hague, potential impact on victims and witnesses, the length of the proceedings to be held away from the seat of the court," and others, ICC said.
The ICC did last month excuse Ruto from attending parts of the trial as a result of his government commitments in Kenya.
The ICC in January 2012 confirmed crimes against humanity charges against four senior Kenyans including Ruto, Sang and Kenya's newly-elected President Uhuru Kenyatta.
Charges against a fourth accused, civil servant Francis Muthaura, have since been dropped.
Judges last month postponed Kenyatta's trial until November 12, when he is expected to become the first-ever serving head of state to face the ICC's judges.
What began as post-election riots in 2007 quickly turned into ethnic killings and reprisal attacks, plunging Kenya into its worst wave of unrest since independence from Britain in 1963.