Kenya building collapse: At least 10 missing in Nairobi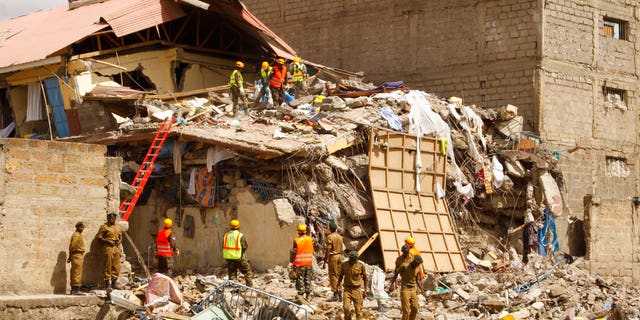 NEWYou can now listen to Fox News articles!
At least 10 people were missing Tuesday after a seven-story building in a low-income area of Nairobi collapsed, according to witnesses and officials in Kenya.
The collapse took place late Monday night, Nairobi Police Chief Japheth Koome said. Residents noticed the building showing signs of instability and called the police, who ordered an evacuation. Crews rushed more than 120 people to safety before the collapse.
A mother of five was among those who made it to safety, but some in her family were missing, the BBC reported. "Four of my children had left. Two people remained in the house: my son, who is in high school, and my brother-in-law. I wanted to go back to check on them but I was stopped. That saved me because seconds after I turned, the building came down. I don't know what has happened to them," the woman said.
Rescue efforts were under way, but the deployment of government rescuers has been slow. Angry residents took to throwing stones. This slowed the search and rescue efforts further and led police to fire tear gas, according to Hailey Akinyi, who lived in an adjacent building.
Rescue coordinator Pius Masai said that among those trapped was a woman with three children, according to BBC.
4 PEOPLE RESCUED 6 DAYS AFTER KENYAN BUILDING COLLAPSE
Three people have been rescued from the debris already, Akinyi said. Both Akinyi's building and the collapsed building had been marked with an 'X' to signify that they had been condemned by the National Construction Authority.
In 2015, eight buildings collapsed, killing a total of 10 people. President Uhuru Kenyatta ordered an audit of all the country's buildings to see if they were up to code. The National Construction Authority found that 58 percent of buildings in Nairobi were unfit for people to live inside.
Most of Nairobi's 4 million residents live in low-income areas or slums. Building collapses have become common as housing is in high demand and corrupt developers often bypass regulations.
Last year a building collapse in another low income area killed 37 people and injured 70. The rescue mission took days during which a six-month-old baby and a pregnant woman were among those pulled safely out of the rubble. After that collapse the government ordered all condemned building demolished and residents evacuated but the operation was never completed after media attention waned.
The Associated Press contributed to this report.