Judge Sentences Russian Punk Band Pussy Riot 2 Yrs in Jail for Hooliganism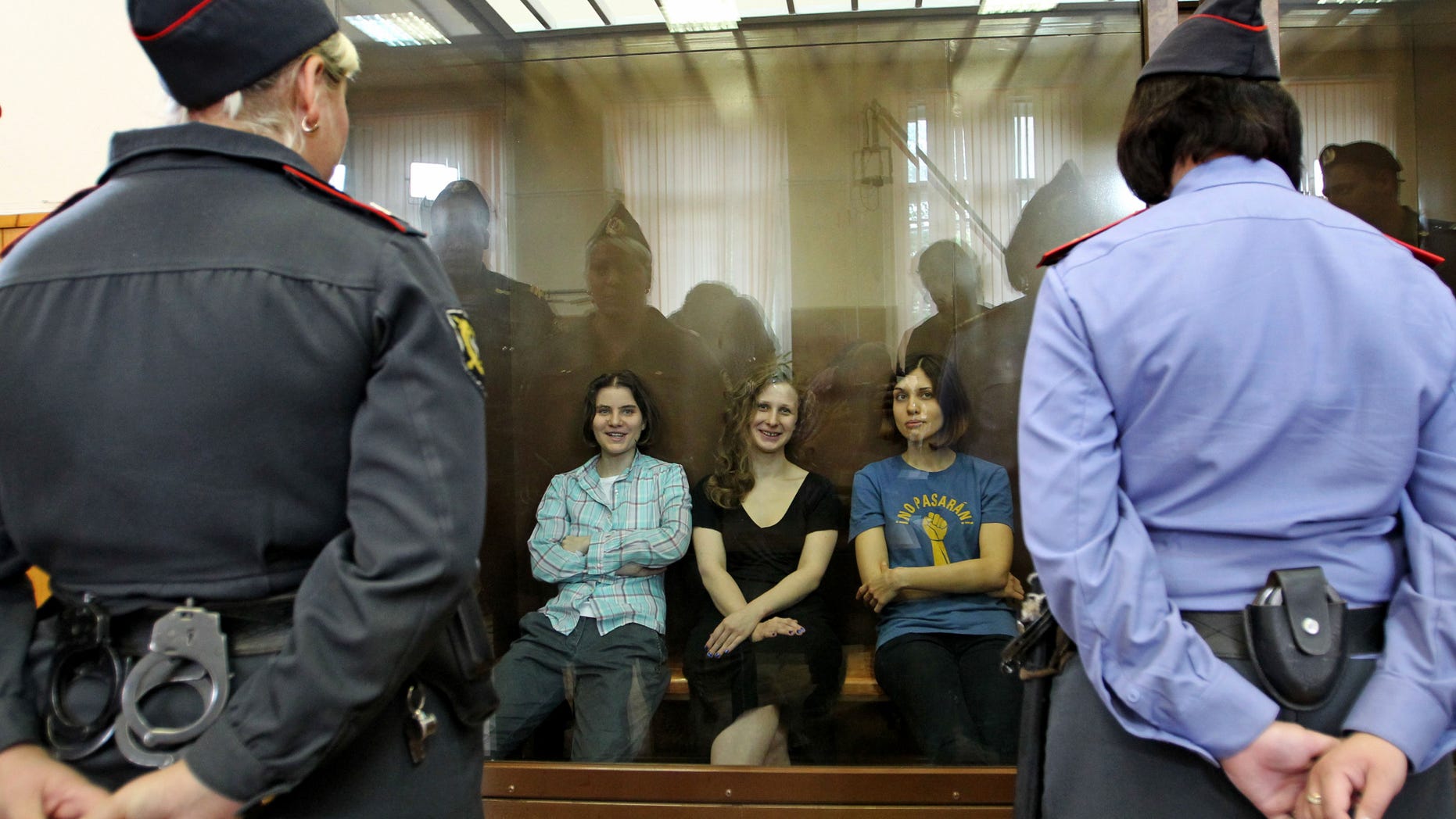 A judge found three members of the provocative punk band Pussy Riot guilty of hooliganism on Friday, in a case that has drawn widespread international condemnation as an emblem of Russia's intolerance of dissent.
The Russian judge said the three band members committed hooliganism driven by religious hatred and offending religious believers.
The three were arrested in March after a guerrilla performance in Moscow's main cathedral calling for the Virgin Mary to protect Russia against Vladimir Putin, who was elected to a new term as Russia's president a few days later.
They face a maximum seven years in prison. The sentence is to be handed down later Friday.
The case has attracted international attention as an emblem of Russia's intolerance of dissent. It also underlines the vast influence of the Russian Orthodox Church. Although church and state are formally separate, the church identifies itself as the heart of Russian national identity and critics say its strength effectively makes it a quasi-state entity.
Protests timed to just before the verdict or soon afterward were planned in more than three dozen cities worldwide.
Prosecutors have asked for three-year sentences, down from the possible seven-year maximum and Putin himself has said he hopes the sentencing is not "too severe."
Celebrities including Paul McCartney, Madonna and Bjork have called for them to be freed, and protests are planned around the world Friday.
Before Friday's proceedings began, defense lawyer Nikolai Polozov said the women "hope for an acquittal but they are ready to continue to fight."
There was a heavy police presence around the court building in central Moscow, where hundreds of protesters and band supporters were gathering.
Even if the women are sentenced only to time already served, the case has already strongly clouded Russia's esteem overseas and stoked the resentment of opposition partisans who have turned out in a series of massive rallies since last winter.
The case comes in the wake of several recently passed laws cracking down on opposition, including one that raised the fine for taking part in an unauthorized demonstrations by 150 times to 300,000 rubles (about $9,000).
Another measure requires non-government organizations that both engage in vaguely defined political activity and receive funding from abroad to register as "foreign agents."
Based on reporting by The Associated Press.
Follow us on twitter.com/foxnewslatino
Like us at facebook.com/foxnewslatino