Japanese Nuclear Plant Workers Advance Plans to Cool Off Damaged Reactors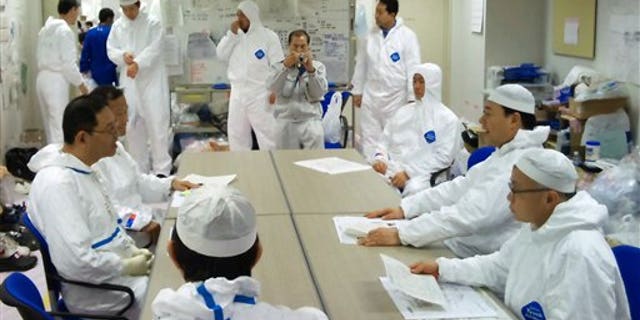 Japanese engineers aim to regain control and restore parts of the cooling system at the damaged Fukushima Dai-ichi nuclear plant Sunday as they plan to move contaminated water into other areas of the facility, Reuters reports.
On Saturday, two 190,000-pound concrete pumps that have been retrofitted to spray water to cool off reactors were on their way to the plant from Atlanta and Los Angeles. Both are operational by remote control.
The facility's owner, Tokyo Electric Power Co., is also hoping to use T-Hawk drone aircraft made by Honeywell to inspect hard-to-access areas of the plant. The drone can be operated from six miles away and transmit video and still images.
"Some of the highly radioactive water will be moved within the plant. But a second and third solution needs to be discovered as water is being pumped in constantly, increasing the total amount," Japan's Deputy Cabinet Secretary Tetsuro Fukuyama told local television Sunday, according to Reuters.
Workers have spent the past month frantically trying to stop the radiation spewing from nuclear reactors at the Fukushima plant by restoring cooling systems, but they still have a long way to go.
Radiation in water pooling around the complex has slowed efforts to stabilize the reactors, but workers made progress Saturday toward cleaning up that contamination.
In a move that prompted some criticism from neighboring countries, engineers decided earlier this month to deliberately pump less-contaminated water into the ocean from a storage facility they thought might make a good receptacle for the more highly radioactive water. They are also pumping out water from drains to keep it from backing up.
"I would like to apologize from my heart over the worries and troubles we are causing for society due to the release of radiological materials into the atmosphere and seawater," Sakae Muto, a vice president of the nuclear plant's operator, Tokyo Electric Power Co., said Saturday.
Contamination levels in the sea near the plant have actually fallen over the past few days after workers managed to stop a leak of highly radioactive water that was pouring directly into the ocean.
Work at the plant has been slow because radiation levels are so high in some areas that workers can enter only for short periods of time, or not at all.
Residents who live within 12 miles of the plant have been evacuated over radiation concerns.
There has been some talk in recent days that officials might organize tours for people to visit their homes, but Trade Minister Banri Kaieda said Saturday that more planning was needed to ensure the safety of such trips.
"The residents had to rush out with barest necessities, and they are eager to go back as soon as possible to bring back things that they need," he said in Tokyo after a day trip to the complex. "But such tours must be brief, systematic and safe."
The contamination has raised concerns about food safety, and the government announced Friday that it was setting a new radiation standard for rice and would prohibit farmers from planting in soil with levels of radioactive cesium that are too high. Rice grown in soil not considered too contaminated will also be checked for radiation before it can be shipped.
The Japanese and U.S. militaries launched another all-out search for the bodies of earthquake and tsunami victims Sunday along Japan's ravaged northeast coast.
About 22,000 Japanese troops, along with 110 from the U.S., searched by land, air and sea. Television news footage showed them using heavy equipment to lift a boat washed inland by the tsunami so they could search a crushed car underneath. No one was inside the car. The troops also used shovels to dig through mud.
"A month after the earthquake and tsunami, many people are still missing," said Japanese defense ministry spokesman Norikazu Muratani. "We would like to do our utmost to find bodies for their families."
As many as 25,000 people died in the March 11 disaster, but only 13,000 deaths have been confirmed. Many bodies have likely washed out to sea and will never be found.
A similar three-day search with even more troops a week ago found just 70 bodies, underscoring the difficulties of locating victims in the debris along the coast washed away by the tsunami.
The latest search was to last just one day and did not include the evacuation zone around the tsunami-flooded nuclear complex that is spewing radiation. Troops and police officers decked out in full protective gear continue the dangerous, painstaking work of searching the area closest to the Fukushima Dai-ichi plant.
In coastal Fukushima on Sunday, a middle-aged man watched as soldiers in scuba gear dove underwater to try to find bodies and other debris. He hoped they would locate his younger brother, a fisherman who was swept away.
"He must be trapped in the boat," the man told public broadcaster NHK, which did not identify him. "I'm just praying soldiers will find him."
Also on Sunday, Prime Minister Naoto Kan visited Ishinomaki, a coastal city of 163,000 people in Miyagi, one of the prefectures (states) hardest-hit by the tsunami.
Kan, clad in blue work clothes, met with Miyagi Governor Yoshihiro Murai and Ishinomaki Mayor Hiroshi Kameyama. Kameyama told him the government needs to quickly build temporary homes for the 17,000 city residents who lost theirs and are living in shelters. More than 2,600 residents were killed in the disaster and another 2,800 are missing. Boats were also destroyed, crippling the fishing industry that accounts for 40 percent of Ishinomaki's economy.
"The government will do its utmost to help you," Kan told the officials. "We will support you so that you can resume fishing."
Meanwhile, 250,000 households in northern Japan were still without running water and electricity Sunday. Some have not had it since the tsunami, while others lost it in a magnitude-7.1 aftershock Thursday that killed three people and rattled nerves but did not cause extensive damage.
The Associated Press contributed to this report.