Japan approves contentious bill against planning crimes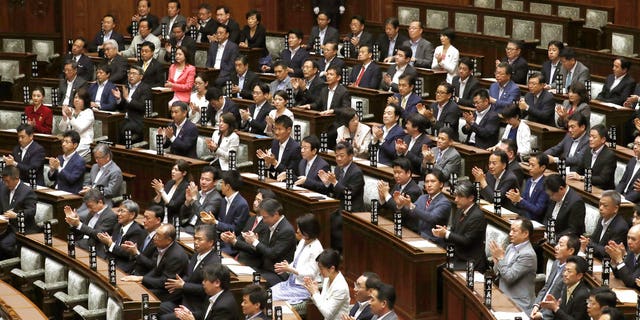 NEWYou can now listen to Fox News articles!
Japan's ruling coalition pushed a contentious bill through parliament Thursday that makes it a crime to plan a crime.
The government of Prime Minister Shinzo Abe said the new law, which criminalizes the planning of 277 serious crimes, is needed to prevent terrorism, especially with the Olympics coming to Tokyo in 2020.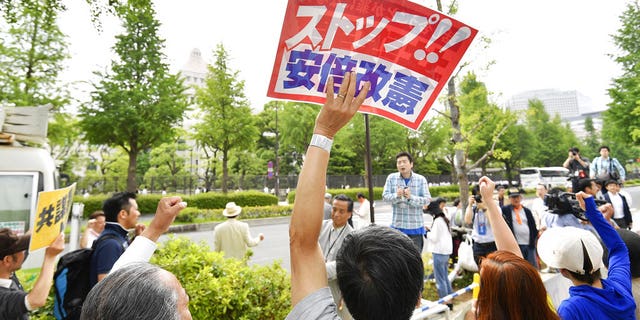 Opponents warned that authorities could use the legislation to limit free speech and public protests.
Abe told reporters after the vote that the government wants to use the law in a proper and effective way to protect people's lives and property.
A sizeable crowd protested outside parliament as upper house lawmakers hotly debated the bill Wednesday. Opposition parties used delaying tactics, with the jockeying continuing into the early morning hours.
In the end, the upper house approved the bill after the ruling Liberal Democratic Party and its coalition partner Komeito took the unusual step of bypassing committee approval, which normally precedes a vote by the full house.
The more powerful lower house passed the bill last month. At the time, opposition lawmakers in a lower house committee tried to rip documents from the hands of the chairman to prevent a committee vote.
The U.N. special rapporteur on the right to privacy, Joseph Cannataci, sent an open letter to Abe in May raising concerns over the bill. The letter expressed "serious concern" that the bill could affect the right to privacy and other freedoms if broadly applied.
Yoshihide Suga, the chief cabinet secretary of Abe's government, called the concerns "utterly incorrect."