Italy: Search for Survivors in Mud-Filled Villages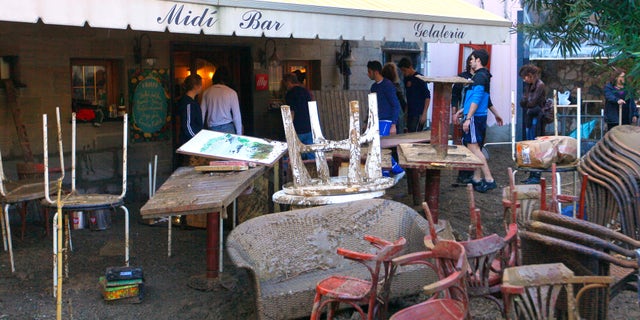 AULLA, Italy -- Soldiers and civilian rescue workers battled knee-deep mud Thursday as they searched for survivors after flash floods and mudslides inundated picturesque villages around coastal areas of Liguria and Tuscany.
Coast guard cutters were also called in following reports that some of the missing may have been swept into the sea by the fury of the storm. At least nine people died and six others are missing.
Many towns are still isolated nearly 48 hours after the storms hit. A military officer told Sky Italia that 500 soldiers were brought in to help in the search operation and to clear roads and bridges.
Villages like Aulla in Tuscany, where two people are confirmed dead and one is listed as missing, were covered by mud that swept into homes and stores and caked parked cars.
"In an hour the work of 10 years was lost," said the Rev. Giovanni Perrini as he inspected his parish church and nearby museum filled with mud.
In Borghetto Vara, a woman whose house was destroyed recovered her five kittens from the mud. "It is all that I have left, I have nothing else," the unidentified woman told the ANSA news agency.
Six of the victims came from Borghetto Vara, a village in Liguria known for its grapes, wines and chestnuts. Roiling waters and mud tore through the village, 45 miles from Genoa and near the Cinque Terre, a popular vacation area, which also suffered damage.
Schools, businesses and stores were closed in many villages, railroad service was interrupted and the highway linking Genoa and Livorno was blocked.