Israeli troops kill Hamas militant in overnight West Bank arrest raid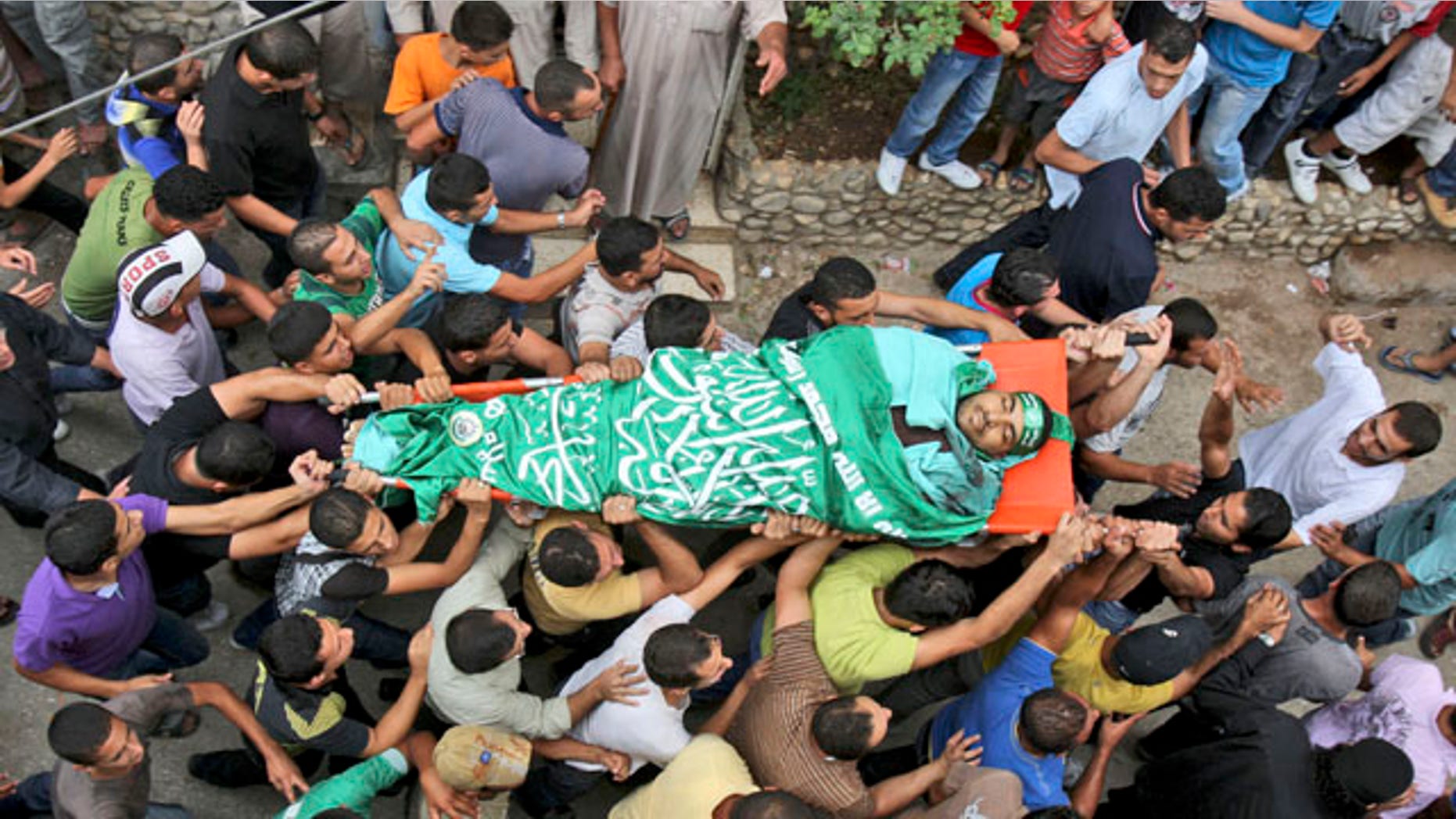 JERUSALEM – JERUSALEM (AP) — Israeli troops killed a Hamas militant on Friday during a raid in the West Bank, where violence has increased since a new round of Mideast peace talks began this month.
Hamas vowed to avenge the death of Iyad Abu Shilbaya, 37, who the Islamic militant group said was a local leader of its armed wing in the northern West Bank town of Tulkarm.
"The blood of our martyr will be a curse," said Hamas military spokesman Abu Obeida. He blamed both Israel and Hamas' rivals, the Western-backed Palestinian Authority, for the killing.
The Islamic group vowed to avenge the militant's death. Gunmen from Hamas, which opposes the peace talks and has threatened to use violence to derail them, killed four Israeli settlers in a Sept. 1 shooting just as the talks were getting under way.
Israel's military said soldiers were trying to arrest Abu Shilbaya in Tulkarm when he ran toward the soldiers, ignoring orders to halt. The military said troops feared he had a weapon and shot him.
The man's brother, Mutasim Abu Shilbaya, said troops burst into his brother's house around 3 a.m. and killed him in his bedroom. A floor mat in the room and the bed were stained with blood.
Israel's military said Abu Shilbaya was wanted for "recent activity" but provided no further details. A Hamas statement said Abu Shilbaya served several stints in Israeli and Palestinian Authority jails. It said he was responsible for leading several militant attacks, but gave no other information.
Following Abu Shilbaya's death, Israeli soldiers and Palestinian Authority forces on high alert set up separate checkpoints on roads leading to Tulkarem, halting cars and searching people's documents.
Still, some 3,000 Hamas loyalists gathered to march in Abu Shilbaya's funeral, waving the group's green flag and chanting "revenge, revenge!"
It was the largest — and boldest — gathering of Hamas supporters in the West Bank in three years. Hamas seized power in the Gaza Strip in 2007, pushing out loyalists of the Palestinian Authority, headed by President Mahmoud Abbas. Following the Gaza takeover, Abbas' Palestinian Authority consolidated its rule in the West Bank, although Israel retains overall security in the West Bank through its military occupation.
Though the Palestinian Authority and Israel share Hamas as a common enemy and have cracked down on the militant group, the Palestinian prime minister, Salam Fayyad, condemned Abu Shilbaya's killing.
"(It) increases the weakness of the credibility of the peace process, which is already shaken," Fayyad said in a statement.
Israel says Palestinian forces are still unable to assume full control for security.
Israeli Prime Minister Benjamin Netanyahu and Palestinian President Mahmoud Abbas held a second round of peace talks this week, accompanied by U.S. Secretary of State Hillary Rodham Clinton.
The talks face a major obstacle at the end of the month, when a slowdown in Israeli settlement construction is set to expire. The Palestinians say they will halt the talks if settlement construction resumes in full, and the U.S. has urged Israel to extend the slowdown.
There are signs the sides might be close to a compromise that would allow the talks to continue, but the leaders still need to reach agreement on the thorniest issues dividing them. Those include the route of a border between Israel and a future Palestinian state, the fate of Palestinian refugees and a formula for sharing Jerusalem.
___
Associated Press writers Naser Ishtayeh in Nablus, West Bank, Mohammed Daraghmeh in Ramallah, West Bank, and Ibrahim Barzak in Gaza City, Gaza Strip, contributed to this report.