Israeli Cabinet approves nationality bill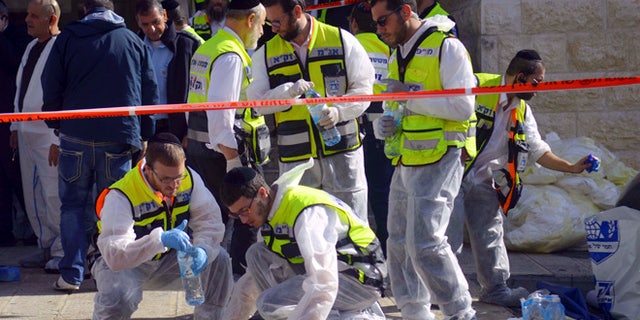 JERUSALEM – Israel's Cabinet approved a contentious bill Sunday to officially define it as the nation-state of the Jewish people, a move that looks to further inflame tensions with Arab Israelis and Palestinians and potentially shake up the ruling coalition government.
The bill, which still needs to be passed in parliament to become a law, ostensibly looks to define Israel's existing Jewish nature into law. But its various versions have drawn accusations that it will undermine the country's democratic character, and some rights groups have even denounced it as racist.
The vote comes at a time of soaring tensions between Arabs and Jews and a wave of violent attacks, including last week's deadly assault on a Jerusalem synagogue in which two Palestinians killed five people with guns and meat cleavers.
The Israeli government vowed to respond to the wave of violence with harsh new measures, including a proposal to strip Palestinian attackers of their residency rights. Israel has already resumed a controversial policy of demolishing Palestinian attackers' homes.
Prime Minister Benjamin Netanyahu said the nationality bill was needed to anchor both Israel's Jewish and democratic nature, at a time when he said many were challenging Israel's existence.
"There are those who would like the democratic to prevail over the Jewish and there are those who would like the Jewish to prevail over the democratic," he said. "In the principles of the law that I will submit today both of these values are equal and both must be considered to the same degree."
The vote set off a stormy Cabinet session in which two of his most centrist coalition partners voted against the proposed bill and voiced fierce opposition, claiming that at this sensitive juncture it would likely just escalate tensions.
Finance Minister Yair Lapid, who heads the centrist Yesh Atid party, called it "a bad law, which is badly worded." After voting against the bill, his faction was holding an emergency meeting to discuss further steps. Justice Minister Tzipi Livni of the Hatnuah movement also opposed the bill.
In its current form, the bill calls for recognizing Israel's Jewish character, institutionalizing Jewish law as an inspiration for legislation and delisting Arabic as an official language.
Arabs make up about 20 percent of Israel's population and strongly oppose the bill.
The recent unrest has centered around Jerusalem's most sensitive holy site, a hilltop compound revered by Jews and Muslims.
Muslims fear that Israel is plotting to take over the site -- a charge that Israel denies. They are also upset about Israeli restrictions that have limited access for Muslim worshippers on security grounds.
Meanwhile, a spokeswoman for an Israeli mayor who suspended work by Arab laborers over the recent violence said they will be allowed to resume building bomb shelters in kindergartens next week, but that children would be moved to other locations in the city of Ashkelon during the construction.