Israel launches major Syria strike hours after Netanyahu meets Russia's Putin
Just before Israel launched its Thursday bombardment of Syria, hitting nearly all of Iran's military installations in the war-torn country, Prime Minister Benjamin Netanyahu had a high-stakes face-to-face meeting with Russian President Vladimir Putin that reportedly helped clear the way for the successful Israeli strike.
Putin, one of Iran's few backers and someone with his own stake in the Syrian conflict, has been mum about the meeting. But Netanyahu has signaled Putin -- at the very least -- didn't stand in Israel's way as it planned the major strike in Syria.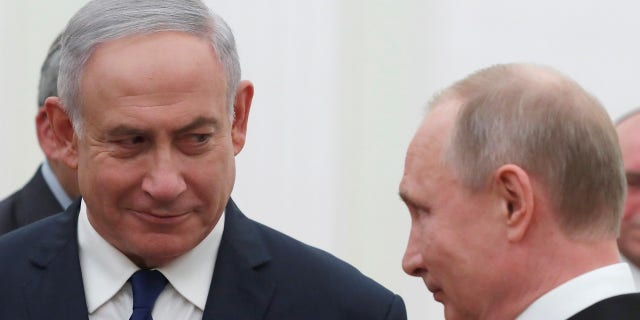 Netanyahu said he traveled to Russia to meet with Putin on Wednesday to stress continued military coordination between the two countries, Reuters reported.
"Given what is happening in Syria at this very moment, there is a need to ensure the continuation of military coordination between the Russian military and the Israel Defense Forces," Netanyahu told reporters before his plane departed for Moscow.
ISRAEL STRIKES 'NEARLY ALL' IRANIAN INFRASTRUCTURE IN SYRIA AFTER IRAN ROCKET ATTACK, MINISTER SAYS
After the nearly 10-hour meeting, the Israeli prime minister reportedly appeared more upbeat, indicating talks with Putin favored Israel's side. Netanyahu said he told Putin Israel had the right to defend itself from Iranian aggression in Syria.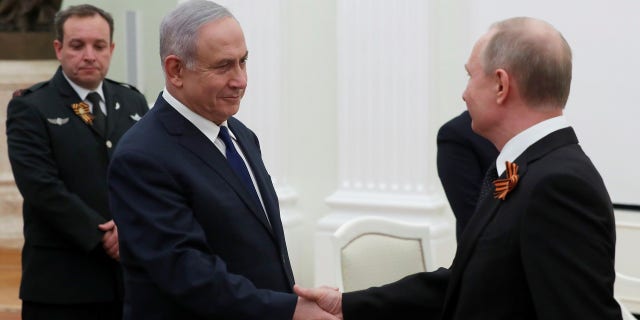 "I think that matters were presented in a direct and forthright manner, and this is important," Netanyahu said after the meeting. "These matters are very important to Israel's security at all times and especially at this time."
He added: "In previous meetings, given statements that were putatively attributed to -- or were made by -- the Russian side, it was meant to have limited our freedom of action or harm other interests and that didn't happen, and I have no basis to think that this time will be different."
Netanyahu, while attending the ceremony marking Russia's World War II victory over Germany, noted Russia's sacrifice to beat the "Nazi monster" during the war — and alluded to another "monster" in the Middle East waiting to slaughter Jews.
"Neither do we forget the great lesson of the need to stand against a murderous ideology in time," Netanyahu said during his meeting with Putin. "It is unbelievable, but 73 years after the Holocaust, there is a country in the Middle East, Iran, that is calling for the destruction of another six million Jews."
Just hours later, the Israel Defense Force announced the strike on Iran's military assets in Syria. IDF spokesman Lt. Col. Jonathan Conricus said the attack — which was the largest in Syria since the 1973 Yom Kippur War — was in retaliation for Iran's Quds Force firing 20 rockets at Israel's front-line military positions in the Golan Heights.
Conricus said Israel notified Russia about the strikes before the attack began, but did not go into further detail.
A senior Israeli Air force official also told Israeli media that the strike was "coordinated with Russia."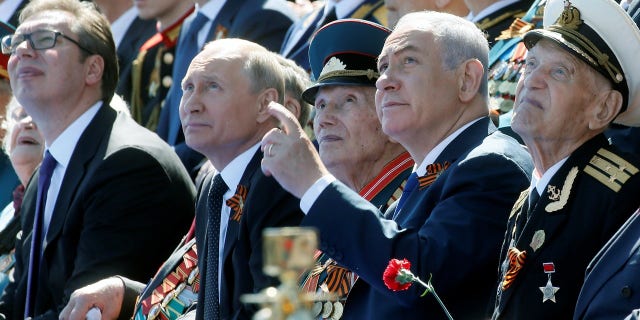 "We made sure there weren't any Russian troops in the targets," he said.
Netanyahu said on Thursday Israel responded "accordingly" with Iran's actions.
"Iran has crossed a red line. Our response was accordingly," Netanyahu said. "We are in a long campaign and our policy is clear: we will not let Iran have military bases in Syria."
Russia has stayed largely out of Israel's way and remained in contact with Israel through a hot line since the Russian military waged a campaign backing forces loyal to Syrian President Bashar al-Assad in 2015. Putin has viewed Iran as a strategic ally over the years.
The Russian leader is reportedly willing to turn a blind eye to Israeli actions as long as they do not cause Syria to collapse, Reuters reported. Russia has issued threats directed at Israel, however. In April, Russia condemned and blamed Israel for carrying out missile strikes on an air base in Syria.
Fox News' Yonat Friling in Jerusalem and The Associated Press contributed to this report.