Israel adopts stiff penalties for Palestinian rock-throwers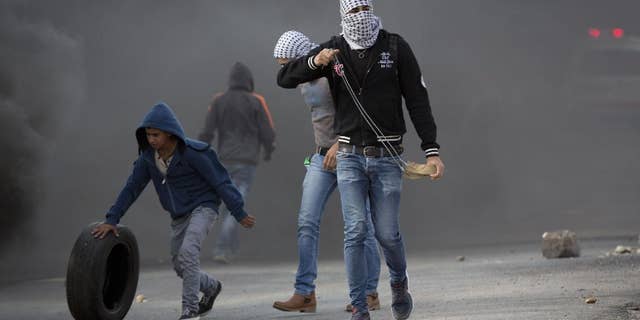 Israel's parliament has passed a law toughening penalties against Palestinians for throwing rocks at soldiers, after a nearly two-month wave of violence that has seen almost daily Palestinian attacks on Israeli civilians and soldiers.
The law places a minimum sentence of three years on offenders and strips rock-throwers of their social security benefits, a punishment that applies to Palestinians in east Jerusalem. The parents of minors convicted of rock-throwing could also have their social security benefits annulled during the period of the offender's sentence.
Israel's parliament, the Knesset, announced passage of the law on its website Tuesday. The legislation was first introduced months ago, before the current unrest began.
On Wednesday, Israel police say a Palestinian was shot and killed after he rammed his vehicle into an officer in the West Bank. Police spokeswoman Luba Samri says the officer was seriously wounded in the attack.
The violence began with clashes at a sensitive Jerusalem holy site and quickly spread across Israel and into the West Bank and Gaza Strip. Eleven Israelis have died, mostly in stabbing attacks, while 70 Palestinians have been killed, including 44 people labeled by Israel as attackers.
"A minimum punishment is necessary to create a deterrent and uproot the assumption that `it's just a stone,"' said lawmaker Nissan Slomiansky, who sponsored the legislation. He said that "throwing a rock is an attempt to murder and there should at least be a minimum punishment."
Arab lawmaker Jamal Zahalka condemned the law, saying that "fires cannot be put out with gas, and this law is throwing gas on a fire."
The first fatality in the current round of violence was a 64-year-old Israeli who died after his car was pelted with rocks in Jerusalem as he drove home during the Jewish New Year.
Israeli leaders have accused Palestinian political and religious leaders of inciting the violence. The Palestinians say it is the result of frustration after nearly 50 years of Israeli occupation.
The Associated Press contributed to this report.