ISIS monitored Turkey-Syria border as fighters poured in, report claims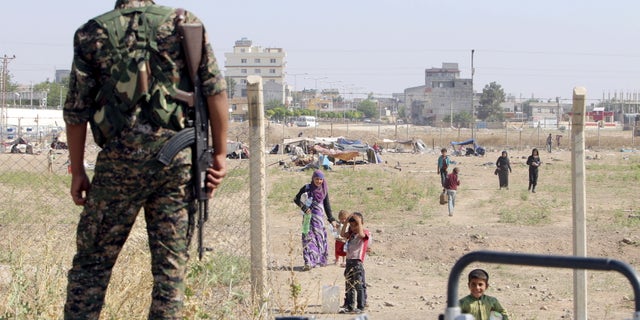 The Islamic State terror group kept a sophisticated log of dozens of travelers who crossed a Syrian border town with Turkey between December 2014 and March 2015, documents obtained by The Guardian reveal.
The seven passenger manifests, which were reportedly stamped by the Islamic State's "Department of Immigration" and "Department of Transport," contain sensitive information, including travelers' names, birthdates, identification numbers and birthplace, according to the The Guardian.
The documents show passengers used the crossing into Tel Abyad to travel to and from terror hotbeds, including Raqqa and Mosul – ISIS strongholds in Syria and Iraq, respectively – and Kairouan, a Tunisian city known for its radical activity. Tunisia is the biggest source of foreign fighters traveling to Syria, the country's government estimates, The Guardian reported.
The report comes as Turkey struggles to secure its 500-mile-long border with Syria, a popular crossing for fighters hoping to join the Syrian conflict.
"We cannot put soldiers everywhere on the border," Turkish Prime Minister Ahmet Davutoğlu told the Independent. "In any case, there isn't any state on the other side [of the frontier]."
President Obama has said he's had "repeated conversations" with Turkey about its border after the November 2015 terror attacks in Paris, the media outlet reports.
"We've seen some serious progress on that front, but there are still some gaps," Obama said.
Earlier last year, Davutoğlu vowed to increase border security amid international pressure following an ISIS bomb that killed more than 30 Turkish youth activists.
Turkey arrested 207,437 people for illegally crossing its Syrian border between January 2014 and November 2015, and is continuing to crack down on the influx of foreign fighters, an official told The Guardian.
The country has also welcomed more than 2 million Syrian refugees, the official added.