Iranian singer hiding in Germany after rap prompts online death threats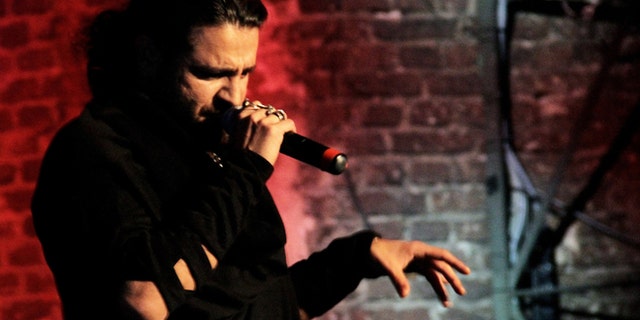 BERLIN – An Iranian-born singer who went into hiding after receiving death threats for allegedly insulting a Shiite saint said Friday he didn't intend to provoke the wrath of religious extremists.
Shahin Najafi, who has lived in Germany since 2005, said he plans to continue writing and eventually performing songs despite the threats against him, which appeared on online forums and in his email inbox last week.
"I'm in a safe place, reading and playing my guitar," he told The Associated Press in a telephone call.
The threats began after comments by officials and religious authorities in Iran were taken to mean the 31-year-old singer had committed apostasy with a humorous song titled "Naghi."
In the song, which featured on an album where the cover showed a mosque's dome shaped like a woman's breast, the singer complains to an eponymous 9th century Islamic saint about plastic surgery and Chinese prayer rugs.
Najafi first contacted German police about the threats May 8. A day later, an unknown person posting on a Persian-language website put a $100,000 bounty on his head.
"That's when I realized it was really serious," Najafi said.
Carlo Kreitz, a spokesman for police in the western German city of Cologne, said authorities too are taking the threats seriously. He said officers had held a security briefing with Najafi but declined to provide further details, citing safety concerns.
The case has been compared in Germany to that of British author Salman Rushdie, who went into hiding for years after Iran's religious leader Ayatollah Ruhollah Khomeini in 1989 issued an edict sentencing him to death for allegedly insulting Islam.
Najafi denies any intentional insult.
"I wrote a song like I always do. I didn't aim to provoke religious people or Islamic radicals," he Najafi. "I just want to live in freedom."