Iran: Sanctions Won't Stop Nuclear Drive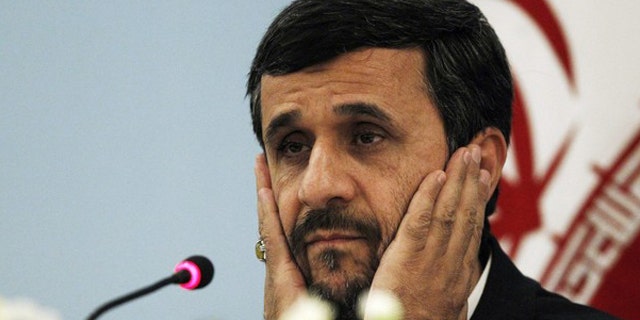 TEHRAN, Iran – Iranian President Mahmoud Ahmadinejad said Tuesday that Tehran is making steady progress in its nuclear program, and warned that not even 100,000 U.N. Security Council resolutions will derail his country's nuclear ambitions.
Ahmadinejad spoke days ahead of talks with world powers in Istanbul, Turkey. Tehran has hardened its position ahead of the meeting with the U.S., Britain, France, Germany, Russia and China, and Iranian officials have said they will not discuss their country's right to enrich uranium at the Jan. 21-22 talks.
The semiofficial Fars news agency quoted Ahmadinejad as saying "Iran is making progress in nuclear energy" while the U.S. and its allies "only issue resolutions."
"Let them issue 100,000 resolutions," he said. "It's not important. Let them say what they want to."
Uranium enrichment lies at the heart of Iran's dispute with the West, a technology that can be used to produce nuclear fuel or materials for an atomic warhead. The U.N. Security Council slapped a fourth round of sanctions on Iran last summer over its refusal to stop enriching uranium.
The U.S. and some of its allies accuse Iran of using its civil nuclear program as a cover to develop a nuclear weapons capability. Tehran denies the accusation, saying its nuclear work is merely geared toward producing nuclear energy and isotopes to treat medical patients.
Last week, Iran took several international envoys — but crucially none from the world powers — to a tour of its nuclear facilities, a gesture Iran hopes will build support before the Istanbul negotiations on its disputed atomic activities.
Iran sought to sell the tour as a gesture of transparency. In a blow to the effort, however, major powers Russia, China and the European Union refused the Iranian invitation. The EU said it should be up to inspectors from the U.N.'s International Atomic Energy Agency to verify whether Iran's program is entirely peaceful.
Iran's offer pointedly did not include the United States, Tehran's archrival, nor three other Western nations that have been critical of the Iranian program — Britain, France and Germany — and many saw the tour as an attempt to divide the nations conducting the nuclear talks.