Indonesia's most wanted Islamic terrorist killed in gunfight, official says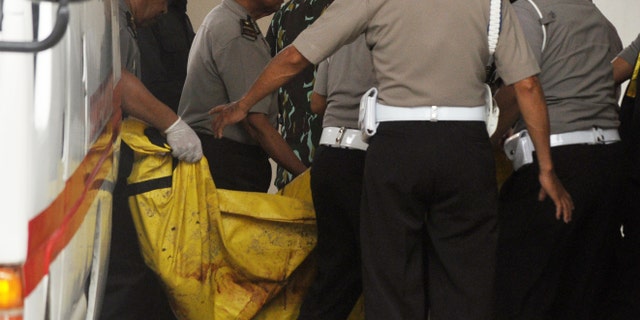 NEWYou can now listen to Fox News articles!
Indonesia's most wanted Islamic militant was killed in a gunbattle with security forces, a top minister said Tuesday, in a victory for the government's counterterrorism campaign that further tightens the vise on a dwindling band of extremists in the jungles of Sulawesi island.
Abu Wardah Santoso was one of two militants killed in the shootout Monday, Coordinating Minister for Security, Political and Legal Affairs Luhut Binsar Pandjaitan told reporters. The other was an extremist known as Mochtar, not Santoso's deputy Basri, as police had initially thought.
Santoso, who headed the East Indonesia Mujahideen militant group that in 2014 claimed allegiance to the Islamic State group, had eluded capture for more than five years.
About 2,500 security personnel, including elite army troops, intensified operations this year in Poso, a mountainous district of Central Sulawesi province considered an extremist hotbed, to try to capture Santoso and his followers.
"The strength of this extremist group will definitely weaken after the death of Santoso," Pandjaitan said. "We will increase our forces to pressure the rest of the members."
He said the group still has some 19 members. More than 20 were captured or killed in the past year.
The government's focus on hunting down Santoso was questioned by experts as activity by Islamic State sympathizers increased in Java and other parts of Indonesia. In January, four IS supporters carried out a suicide bombing and shooting in the capital Jakarta in which eight people died, including the attackers.
Santoso was wanted for running a radical training camp in Poso, where a Muslim-Christian conflict killed at least 1,000 people from 1998 to 2002. He has been linked to a number of deadly attacks against police officers and Christians.
Like many other Indonesian extremists, his top enemy became the police following the break-up of a jihadist training camp in a remote part of Aceh in 2010 by the police anti-terrorism squad Detachment 88. Dozens of suspected militants were killed and more than 100 others arrested in the raid.
Santoso vowed revenge attacks and succeeded in killing at least six police officers.
Late last year, security was raised at airports, the presidential palace, foreign embassies and shopping centers in Jakarta after Santoso appeared in a video on social media threatening attacks against police and other targets.
The bodies of Santoso and Mochtar were identified at a police hospital in the capital of Central Sulawesi.
National Police Chief Tito Karnavian said Santoso was identified by captured members of his group and others who had known him.
Three people escaped from the shootout with security forces on Monday including two women.