Indiana plant accused of hiring undocumented workers to keep wages low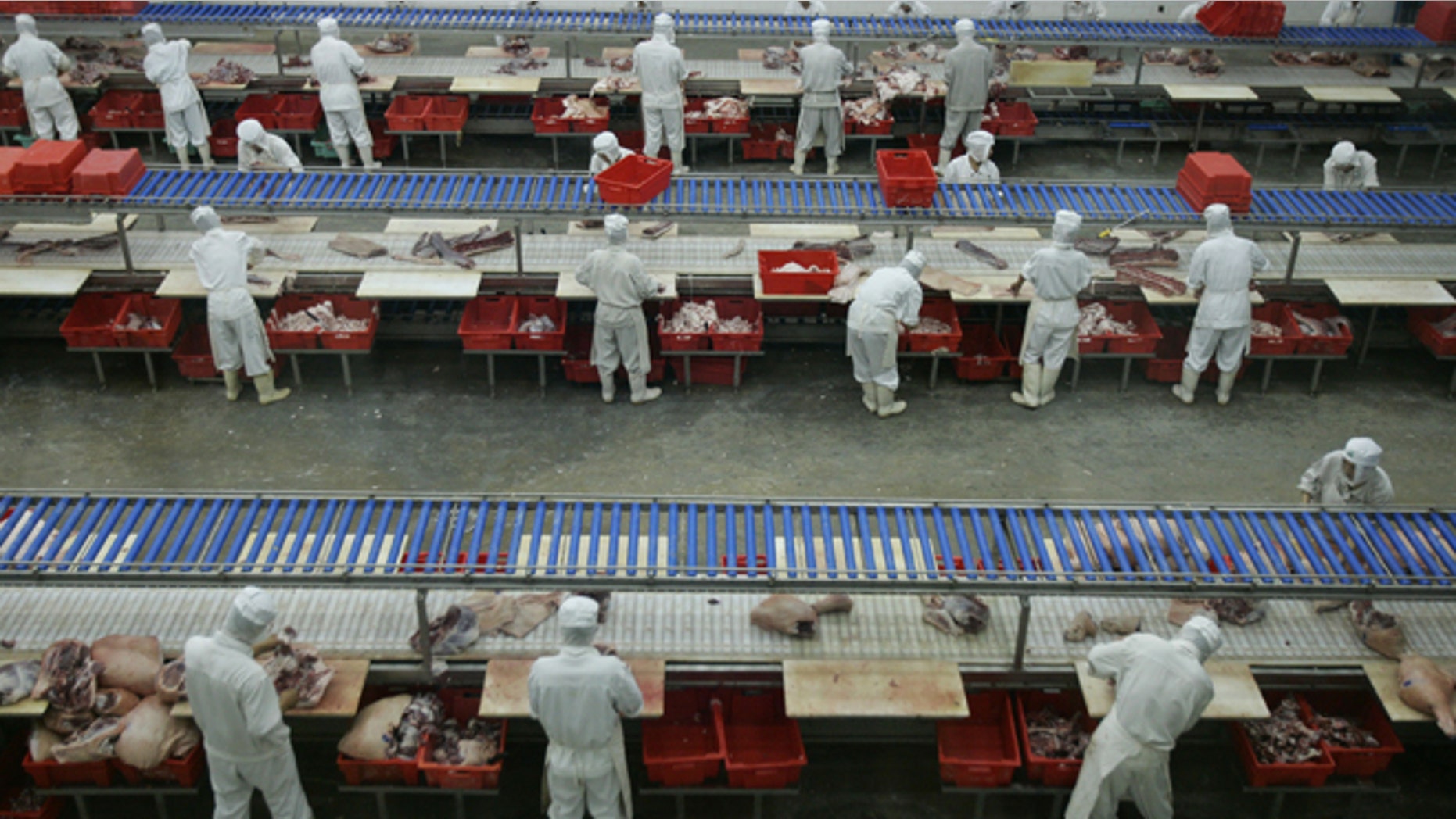 A former employee of a pork processing plant in Indiana has filed a lawsuit alleging that two company officials knowingly hired undocumented workers in an effort to keep wages low for all of the facility's workers.
In his lawsuit filed Tuesday in federal court in northern Indiana, Andrew O'Shea contends that the Indiana Packers Corp.'s human resources staff didn't conduct employment checks when hiring applicants for low-paying jobs, even when there was evidence that applicants were using fake Social Security numbers or identification cards.
"Many workers openly admit they are illegal or were working under false identities and/or had previously worked at IPC under a different name," states the lawsuit, for which O'Shea's Chicago-based lawyer, Howard Foster, is seeking class-action status.
Foster said the scheme also resulted in depressed wages for all of the plant's hourly production workers and that it runs afoul of the Racketeer Influenced and Corrupt Organizations Act, or RICO Act – which is typically used to prosecute people suspected of engaging in organized crime. He said when filing a lawsuit under RICO, the individuals who commit the alleged racketeering activity can be sued, not the enterprise for which they work. However, he said the lawsuit will likely be amended later to add executives higher up in the company as defendants.
"A scheme of this nature cannot occur without the cooperation of many, many people," Foster said.
The current defendants are the company's human resources director, James Harding, and an HR staffer, Marisol Martinez.
In a statement, the company asserted O'Shea was employed "for two brief stints" and had nothing to do with the company's hiring practices. The company also noted its hiring practices were evaluated during a May 2014, Immigration and Customs Enforcement, Homeland Security audit.
"The outcome — in which the government thanked Indiana Packers Corp. for its cooperation and concluded 'there is no basis for further investigation' — obviously speaks for itself," said Indiana Packers vice president Jeff Feirick.
According to the lawsuit, O'Shea took a job in 2013 as a production worker at Indiana Packers, making about $10.50 an hour. He alleges that he overheard a supervisor say that if he needed more workers, Martinez "will get me some more illegals."
O'Shea was fired in 2014 for insubordination but was hired back and later quit, Foster said.
Indiana Packers, located in Delphi, is the largest employer in rural Carroll County. It employs more than 2,000 full-time workers and sells pork products in the U.S., Mexico and Japan, according to a news release.
Based on reporting by the Associated Press.